US gymnast Shawn Johnson's road to London 2012
Last updated on .From the section World Olympic Dreams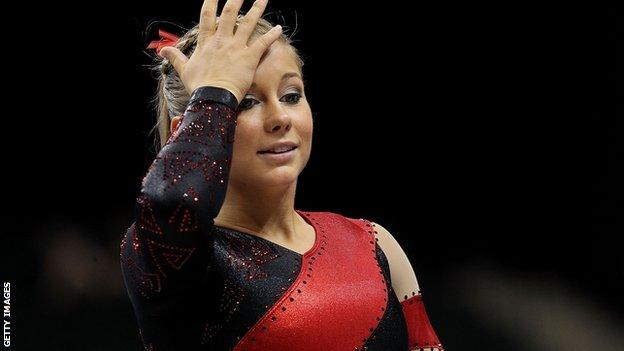 LATEST NEWS - 2012
Fri 06 Jul 12: Although American gymnast Shawn Johnson will not be competing in London, the Open University have acknowledged that
"It has become obvious that my left knee is not able to sustain the demands of gymnastics any longer," she said in statement released on her facebook page.
"All I can do now is gracefully retire and thank everyone who has believed in me and my journey.
"I am announcing this now so the focus for the next three weeks will be on the incredibly talented gymnasts who are trying to make our 2012 Olympic team."
LATEST NEWS - 2011
Fri 28 Oct 11: A week after helping Team USA to gold, Shawn Johnson grabbed a silver medal of her own at the Pan American Games.
She finished second to compatriot Bridgette Caquatto on the uneven bars and was quick to downplay her success.
"I came here to gain experience and get the rust off," she told teamusa.org. "I want to work hard for the next nine months and give it my all because it's such a long, long process to choosing the Olympic team".
Mon 26 Sep 11: Shawn Johnson has not been chosen to compete for the US at the World Gymnastics Championships in Tokyo early next month.
Despite a good showing at the US Championships, she was selected as a 'non-traveling alternate' for Japan. Shawn will now compete at the Pan American Games, held in Mexico at the end of October, instead.
"This isn't a disappointment at all," Shawn said. "I feel like I've made a lot of progress in the last year and I'm happy with where I am. I wasn't the best pick for the team, but I'm going to help out as best I can if needed."
Sun 21 Aug 11: Shawn Johnson's Olympic comeback is on course after she secured a spot on the US squad by performing strongly at the US Championships.
Eighteen months after she blew out her knee in a skiing injury, Shawn placed sixth in the bars and fourth on the balance beam.
"Being selected, it brought back tears," Shawn said. "Being back on that team means so much. It's real now. I kept saying it's just a test run, but it's real now."
Sat 23 Jul 11: Competing for the first time since 2008, Shawn Johnson struggled at the CoverGirl Classic.
Shawn fell off the balance beam and pitched forward on the dismount of her uneven bars routine - neither of her scores made the top five.
"It didn't go as planned. I made some mistakes," Shawn said. "But it's my first meet back. I've gotten the nerves out."
Fri 03 Jun 11: Shawn Johnson has signed a sponsorship deal with Nike.
The BBC's Tom Burridge was given rare access to join Shawn at Nike's state-of-the-art research laboratory known as "the kitchen".
Talking about the deal, Shawn said: "'I am out of high school and wanting to go to college and wanting to build a foundation for the rest of my life and this really could set me up for the rest of my life.''
Thu 03 Feb 11: Shawn is back on the US gymnastics team.
It is a huge step in Shawn's comeback because she is now eligible to participate in international competition.
She tweeted: "SO... dont know if you all heard but i guess the big new exciting news is that im officially listed as a Senior National Team member again.."
LATEST NEWS - 2010
Wed 17 Nov 10: Shawn Johnson will be returning to the Karolyi ranch in Texas for her first national team training camp since the Beijing Olympics.
On Twitter Shawn revealed: "Time to pack... I seriously don't think I could get anymore nervous.... Ahhh!! Haha pathetic but it's been so long! Goodbye sleep tonight."
Wed 20 Oct 10: The BBC's Claire Marshall has visited Iowa to report on Shawn Johnson's 'impossible' comeback.
Thu 16 Sep 10: Shawn Johnson has started training after recovering from an anterior cruciate ligament injury that prevented her from training for six months.