London 2012: Great Britain name powerful rowing squad
Last updated on .From the section Olympics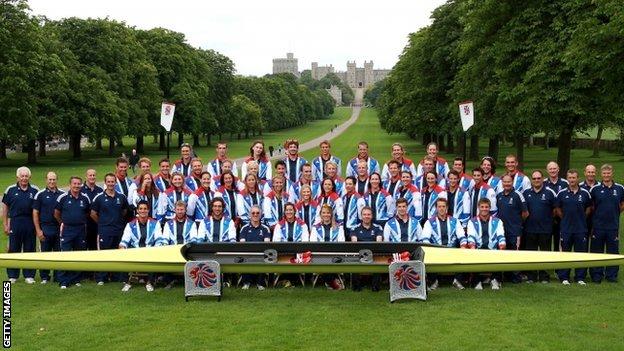 Great Britain have named 48 rowers in the squad for the London Olympics, with four places still to be decided.
Remaining selections in the men's and women's eights will be finalised "in due course", said a Team GB statement.
Britain will compete in 13 of the 14 rowing events at Eton Dorney, with the men's four and men's lightweight double scull defending titles.
The host nation hopes to improve on the record haul of six medals that saw them top the rowing medals table in Beijing.
"We go to the start in London ready to defend our status as the leading rowing nation from Beijing but we are under no illusion as to how tough winning medals, especially gold medals, will be at this Games," said David Tanner, GB Rowing Team performance director.
As expected, Andrew Triggs Hodge, Tom James, Pete Reed and Alex Gregory will attempt to win a fourth consecutive gold medal for Britain in the men's four, following in the footsteps of Sir Steve Redgrave, Sir Matthew Pinsent and James Cracknell among others.
The crew have won both World Cup races this year but were pushed hard by Australia in Lucerne last time out.
"I'm thrilled to be part of the biggest British team ever at our London Olympics," said Reed.
"I have been training for this all my life one way or another. I am a proud lieutenant from the Royal Navy, a proud Olympian and a proud Briton. I'm racing to win."
Anna Watkins and Katherine Grainger are firm favourites in the women's double scull, with Scot Grainger looking to win a first gold after taking silver at the last three Games.
"It's been an incredible honour and privilege to be part of the past three Olympic Games and, as wonderful as they have all been, there is a sense that the upcoming home Games will be on a different scale to anything we've ever seen before," said Grainger.
World and Olympic champions Zac Purchase and Mark Hunter will defend their men's lightweight double scull title, while Helen Glover and Heather Stanning are currently the world-leading women's pair.
Greg Searle will get the chance to go for gold in the men's eight 20 years after he won the coxed pairs title in tandem with his brother Jonny and tearful cox Garry Herbert in Barcelona.
Searle, 40, returned to the sport in 2010 having last competed at an Olympics in Sydney 12 years ago.
Only seven rowers have been named in the men's eight, leaving the door open for Constantine Louloudis to be named as stroke despite having missed both of this year's World Cup regattas with a back injury.
A world under-23 champion, it is hoped Louloudis could give Britain the edge after they pushed world champions Germany hard in Belgrade and Lucerne over the last month.
Ten rowers have been named for the women's eight, with selectors likely to use the upcoming Munich World Cup to assess their options once again before making the final decision.
Team GB rowing squad:
Men's Pair - George Nash, Will Satch
Men's Four - Alex Gregory, Tom James, Pete Reed, Andrew Triggs Hodge
Men's Eight * - Richard Egington, James Foad, Matthew Langridge, Alex Partridge, Tom Ransley, Mohamed Sbihi, Greg Searle, Phelan Hill (cox)
* one further rower will be added at a later date
Men's Single Scull - Alan Campbell
Men's Double Scull - Bill Lucas, Sam Townsend
Men's Quadruple Scull - Charles Cousins, Stephen Rowbotham, Tom Solesbury, Matthew Wells
Women's Pair - Helen Glover, Heather Stanning
Women's Eight * - Jo Cook, Jessica Eddie, Katie Greves, Lindsey Maguire, Natasha Page, Louisa Reeve, Emily Taylor, Victoria Thornley, Annabel Vernon, Olivia Whitlam, Caroline O'Connor (cox)
* Eight from the ten rowers listed will be confirmed as racing in the eight. The two rowers not racing in the eight will be selected as reserves.
Women's Double Scull - Katherine Grainger, Anna Watkins
Women's Quadruple Scull - Debbie Flood, Frances Houghton, Beth Rodford, Melanie Wilson
Lightweight Men's Four - Chris Bartley, Peter Chambers, Richard Chambers, Rob Williams
Lightweight Men's Double Scull - Mark Hunter, Zac Purchase
Lightweight Women's Double Scull - Katherine Copeland, Sophie Hosking