Battle's Steve Scott eyes Double Trap reserve spot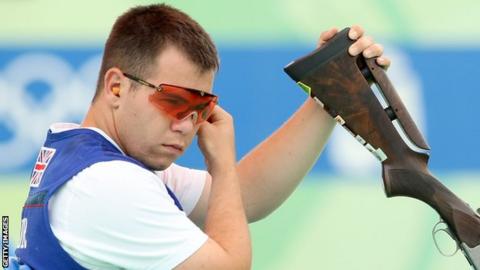 Battle shooter Steve Scott hopes to be named as reserve for Team GB at the Olympic Games.
The 27-year-old missed out to Richard Faulds and Peter Wilson for selection in the Double Trap event.
He told BBC Sussex: "I didn't shoot well enough to be selected so it was no shock to me.
"I'm going to work on the basis that, if I do get called up, I want to be in the best possible form to be in contention for a medal."
The Commonwealth Games gold medallist currently funds himself in competition after his backing from British Shooting was cut in January.
However he returned to form by winning silver at the European Championships in Cyprus last month.
"I've been without a coach for quite some time and unfortunately for me, it's kind of taken it's toll," Scott added.
"I've had to fix my own problems and made a lot of alterations.
"I'm back on my par performance level which I felt I should have been about two years ago. That upset my routine but I feel really strong about my shooting now."