London 2012: Cook considering legal action after omission
Last updated on .From the section Olympics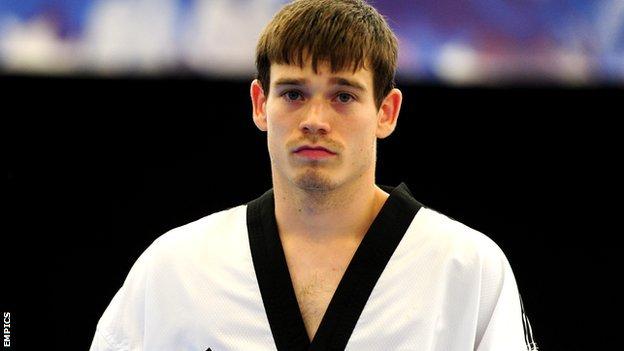 Taekwondo star Aaron Cook is considering legal action after he was again overlooked for an Olympic spot.
Selectors have chosen Lutalo Muhammad over Cook for a third time.
The British Olympic Association's Qualification Standards Panel will meet on Thursday to consider the decision.
"If the British world number one and reigning European Champion does not compete, it will be a national disgrace," said Cook's agent Jamie Cunningham.
"This is an embarrassment not only for the sport of taekwondo internationally, but also for Great Britain's international reputation in hosting the London 2012 Games."
Cook, 21, has been left out of the squad at the expense of Muhammad who is currently ranked 59 in the world.
The BOA, which refused to ratify the decision last week, has already said it is "not afraid" to overturn Muhammad's nomination.
The GB Taekwondo selectors were asked to meet again on Wednesday in the presence of an independent observer and for the third time put forward Muhammad ahead of Cook.
"It has been clearly demonstrated that the processes adopted by Sport Taekwondo UK (STUK) in the two other selection meetings were flawed," added Cunningham.
"Nothing changed today, particularly given that the same selectors were involved and took little consideration of objective facts and STUK's own selection criteria events.
"We have appealed directly to the BOA not to ratify this flawed decision again. In the meantime, we are considering Aaron's position including all his legal options."
A four-strong BOA panel, including BOA chief executive Andy Hunt and performance director Sir Clive Woodward, want to check whether GB Taekwondo has correctly followed procedures.
Hunt said: "Once we have those and the report back from the independent member from the BOA, who was one of our lawyers who attended the whole selection panel which included the voting process, we will convene our own panel to decide whether we are willing to ratify the nomination or not."