London 2012: Robbie Grabarz will need 'unbelievable' rivals
Last updated on .From the section Olympics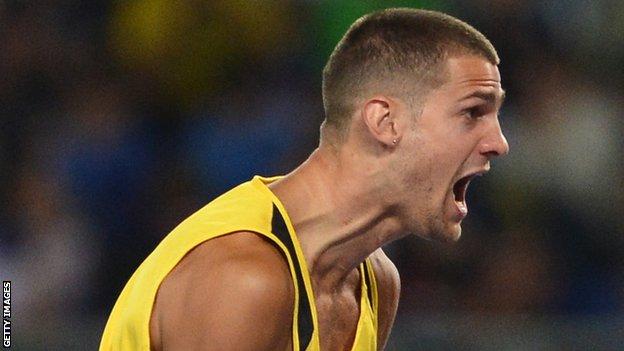 Robbie Grabarz's coach has said it would require an "unbelievable" performance to prevent his charge from taking Olympic gold this summer.
His coach Fuzz Ahmed told BBC Radio Cambridgeshire: "Somebody's going to have to jump incredibly high to take any dreams he might have.
"Somebody's going to have to be unbelievable to spoil the party."
He added: "If somebody can come along and jump higher than Robbie, then good for him. But right now Robbie is very focused and is one of the best physical specimens I've ever seen.
"You put all those ingredients together and I expect big things from him."
Grabarz's 2.33m jump in Rome not only handed him victory over the reigning world indoor and outdoor champions, but it was also 5cm better than anything he recorded in the previous year.
It has signalled a remarkable turnaround for a man who had lost his UK Lottery funding and was maintaining his London 2012 dream with money from Steve Backley and Roger Black's company BackleyBlack.
But Ahmed is adamant the St Neots athlete would have been an Olympic medal contender regardless of his funding situation.
"If he couldn't have found any money, he'd have put it on his credit card," he said.
"If I hadn't found him backing and if he didn't have a credit card, I would have funded him. because that's how much I believed in him.
"I recognised he had matured into a person that wanted to be a world class high jumper, rather than somebody who was just a very good high jumper.
"From my perspective, if I were to design a physical specimen that will be a world class high jumper I'd draw a picture of Robbie.
"He's got a fantastic mind and an extraordinary body, but now a focus that he didn't have before."
His Diamond League victory followed on from an equally impressive indoor jump of 2.34m in Germany earlier in the year.
"I'm not surprised Robbie is this good. This indoor performance everybody is raving about is really what he should have done last summer," said Ahmed, UK Athletics' national event coach for the high jump.
"I expect significantly more from this outdoor season. I think indoors was a bit of a shock to him how easy it was. Now he thinks 'I can prove to myself I am possibly one of the greatest high jumpers that's ever lived'."