London 2012: British Olympic triathlon team revealed
By Ollie Williams
BBC Olympic sports reporter
Last updated on .From the section Olympics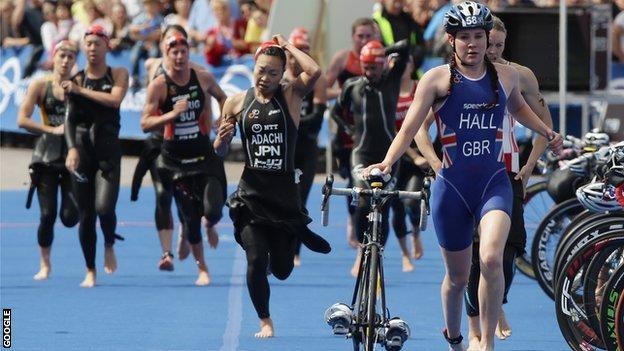 British Triathlon has included two domestiques in its team of six for the London Olympics.
Alistair and Jonny Brownlee are joined by Stuart Hayes in the men's team, while Helen Jenkins will race alongside Vicky Holland and Lucy Hall.
Hayes and Hall take on domestique roles, meaning their duty is to help Jenkins and the Brownlees win Olympic gold in Hyde Park this August.
"I'm very happy and 100% committed to my role," Hall, 20, told BBC Sport.
"My parents are very happy for me as well. They've been taking me back and forth to training since I was 10. They're as proud of me as I am."
While the Brownlees and Jenkins were certain to be picked, some of British triathlon's other established names have been overlooked as the selectors took the decision to employ domestiques.
The likes of Will Clarke, Tim Don, Liz Blatchford and Jodie Stimpson failed to reach the team on merit according to strict qualification criteria - which required podium finishes in world series races - and were rejected in favour of Hayes and Hall for the role of domestique.
Britain has one of the strongest teams in the sport, with Alistair Brownlee and Jenkins the defending world champions in men's and women's triathlon respectively, and Jonny Brownlee the world number two.
They are proven medal-winners at the highest level in their own right but Team GB will still employ team orders at this summer's Olympic triathlon, to maximise any chance of victory.
This is where Hayes and Hall come in. While neither are as complete a triathlon package as the Brownlees or Jenkins, they both possess great speed in the swim and bike stages.
They will be expected to expend their energy helping Britain's medal hopefuls in those opening stages, before fading in the run finale.
"They made it very clear that if I was going to take this place on the team, I would be going as someone to help [Helen Jenkins]," said Hall.
"It would be team tactics - I wouldn't be going as an individual, which I never thought I would anyway. I know I'm not a fast enough runner."
The selection of Hayes and Hall has upset some fellow GB competitors. They believe inferior triathletes have been rewarded for specific domestique skills instead of overall ability as British Triathlon ruthlessly pursues medals - and hence funding from UK Sport, which backs sports according to podium success.
"It's hard, because two of those people have basically walked onto an Olympic team," said Clarke, 27, who is currently ranked 12th in world governing body the ITU's Olympic rankings. Don is ranked 13th, with Hayes (who began the 2012 season injured) 46th.
"There's not really any other sport like that, where someone qualifies so easily considering what others like us have been through," added Clarke.
"We've been racing at the top level around the world for years, gaining ranking points, and they've walked onto the Olympic team. But I'm still good friends with Stuey [Hayes] and I wish him all the best."
BBC Sport understands heated words have been exchanged within the GB squad following phone calls last week to inform athletes of the selectors' decision.
Hall defended her selection, telling BBC Sport: "I'm a human being, I'm not a rock. I do have feelings. As an athlete I can see it from their perspective but I hope people don't see it as my fault and they realise I was selected to do a job.
"Everyone can't be happy with the decision - people are always going to be upset. That's how it is, that's sport.
"It's horrible to think some people don't get to fulfil their Olympic dreams - I hope they understand why I'm taking this opportunity. It's a home Olympics; I can't turn it down."