London 2012: Devastated Will Clarke plots US escape
By Ollie Williams
BBC Olympic sports reporter
Last updated on .From the section Olympics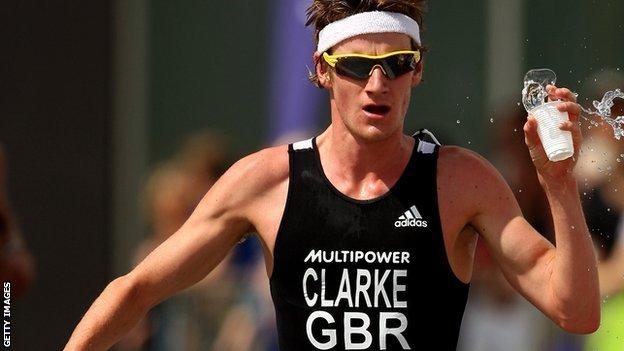 Will Clarke says he will recover from the "nightmare" of not being selected for London 2012 by racing against Lance Armstrong in the United States.
Clarke, 27, was overlooked in favour of team-mate Stuart Hayes for the role of domestique to Alistair and Jonny Brownlee in the three-man GB team.
"I want to go and race people like Lance, try a different side of the sport for a while," said Clarke.
"And if I'm good enough to challenge for medals at Rio 2016, I'll be there."
While the Brownlees have dominated Olympic-distance triathlon on a British and global level, Clarke felt well placed as the third-best triathlete in Britain heading into the 2012 season.
But British Triathlon's selectors opted to take a domestique to the London Olympics, in Hayes - who will race specifically to help the Brownlees - rather than the third man in line based on performance alone.
"I figured I had a great year last year. I was ranked ninth in the world, I won world series silver in Hamburg. I thought I was right up there and comfortably the third-best British guy," Clarke told BBC Sport.
"I went into Sydney [2012's opening race] off the back of a good winter and came eighth, which wasn't great but it was better than the year before and showed I was up there, in the mix.
"But once I got home, I got a phone call from the selectors saying: 'Look, Will, eighth isn't going to cut it. We're looking for podiums or nothing.'
"I thought that was crazy, almost impossible, with all the travel and jet lag between the next races in San Diego and Madrid. I knew from then that I wasn't going to make it and I made the decision to go for the domestique role."
Clarke changed his training and his approach to triathlon, burning up in the opening swim and bike phases as though helping a team-mate and leaving nothing for the run finale. But it was too late to convince the selectors he could fulfil that role for the Brownlees.
He feels the GB team's Olympic selection process worked against him and others in a similar position, such as Tim Don on the men's side and Liz Blatchford or Jodie Stimpson in women's triathlon, who were left out of the team in favour of 20-year-old domestique Lucy Hall.
"It's been a nightmare," said Clarke. "The whole selection process, I didn't know where I stood with it. I missed out on the Olympics because of the lack of clarity of it all.
"It was a really bad system. The Olympic team was basically picked around the Brownlees and Helen Jenkins and we weren't even given the chance to qualify in our own right. It was made too hard, it was too much of a task for any of us to qualify.
"If I'd known earlier, I could have cut back my running and concentrated on swimming and biking. I'm pretty sure I'd be in the team [as a domestique] if I'd done that.
"But because people like me and Liz have been chasing qualification in our own right, we haven't been swimming and biking as well as we possibly could have. The running is an extra nine or 10 hours a week training, that really makes you struggle.
"So you're turning up to a qualifying race very under-prepared as a domestique, whereas other people have been going for that for the past year, because they knew they could never qualify in their own right."
Clarke is now turning his attention to the same circuit as Tour de France road cycling legend Armstrong, who grew up racing in triathlon in the United States.
The 40-year-old returned to the sport with an event held over half-Ironman distance in February this year and is building up to full Ironman distance.