Aaron Cook's camp getting 'desperate', says GB Taekwondo
By Nick Hope
BBC Olympic sports reporter
Last updated on .From the section Olympics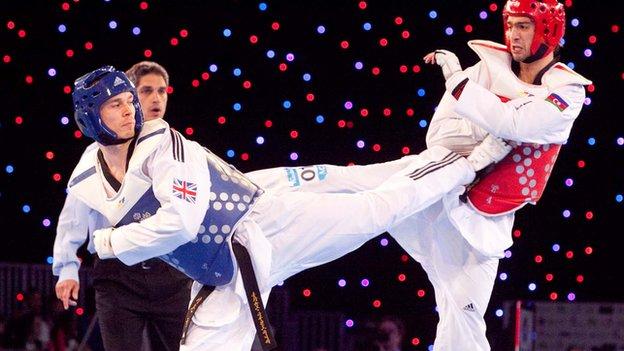 GB Taekwondo has described Aaron Cook's support team as "desperate" after his coach Patrice Remarck called Cook's Olympic omission a "disgrace".
"This is turning a bit nasty," said GB performance director Gary Hall.
"It's becoming a bit desperate. Everyone is becoming a loser now and that's not how we wanted it."
And he added: "The way [Cook's] agency is pushing any story to discredit the sport and GB Taekwondo I don't feel is appropriate."
But Remarck is adamant that greater transparency in the selection process is needed.
"I think the World Taekwondo Federation, the British Olympic Association, UK Sport and the International Olympic Committee need to set clear guidelines to organisations for when we select athletes," he told BBC Sport.
"We have to focus on objectivity, and on results.
"It is totally wrong - [British Taekwondo] have used their guidelines and they have come out with the wrong result."
However Dr Steve Peters, a non-executive director for GB Taekwondo who has observed each of the selection meetings, insists they have been conducted in a "professional and transparent" manner.
"There's been a picture painted of a collusion and of [being] anti-Aaron and I haven't seen this," Peters told BBC Sport.
"I've come out because I don't want to be spineless. If there'd been dishonesty then I'd be speaking out."
Peters, who also works as a psychiatrist with British Cycling, added that he was surprised by Remarck's comments, claiming the coach had not raised any concerns over the process during the meeting itself.
"What it boils down to is not everyone agrees with the views of the experts," continued Peters, who did not vote on the selection of GB's -80kg representative.
"The meeting was meant to last of an hour to 90 minutes and it went on for three hours.
"[Remarck] was given almost a disproportionate amount of time because he had a lot to discuss - we accepted that and he presented very well."
However, the four-strong voting panel still came out in Muhammad's favour.
"We all agreed that if world ranking and success in tournaments were the only selection criteria, then Aaron would be selected as he's an outstanding athlete who could get gold at the Olympics.
"All we're saying is that there are two athletes who can achieve this."
"Lutalo is improving at a rate of knots and has potential which hasn't been tapped," said Peters.
The BOA is meeting representatives from the World Taekwondo Federation on Friday.
Hall admits it is an "irregular" move but says GB Taekwondo will be happy to set the record straight.
"We acknowledge World Taekwondo doesn't have all of our procedure details and has only heard an unbalanced story played out in the media.
"We will put in front of them the whole facts so they are more informed throughout the review."