Nathan Robertson to 'stay in' badminton after retirement
Last updated on .From the section Olympics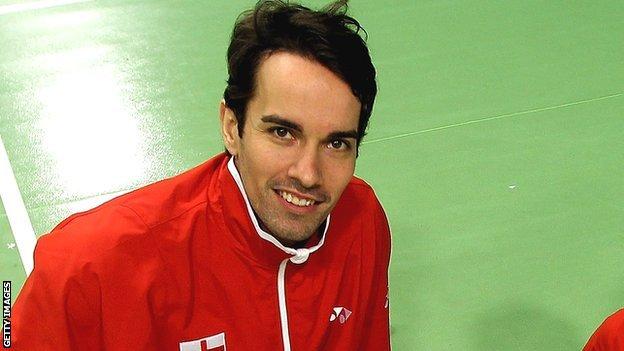 Nathan Robertson intends to remain involved with badminton after taking a brief break following his retirement.
The ex-World mixed doubles champion and Olympic mixed doubles silver medallist retired last week after being left out of the GB squad for the 2012 Olympics.
But Robertson said he was eager to remain in badminton in some form.
"It would be impossible to walk away from a sport which I have given my whole life to as an adult," Robertson, 35, told BBC Radio Nottingham.
"I will definitely stay involved. I have been talking to our chief executive Adrian Christy about the roles I can support Badminton England through so I am looking forward to that when I can start in a few months.
"I am interested in sports management and helping out the kids in badminton. One of my bigger passions is helping children. I am looking forward to passing on the reins to the younger generation."
Robertson said his decision to retire was brought forward slightly by the London Olympics setback.
"I had hoped to get to 2012 obviously and bring the curtain down there, but I was beaten to it by a fellow Notts player in Chris Adcock," he said.
"I have been playing full-time since the age of 16 and am now 35, so it was definitely the time to stop.
"I have been looking forward to having a rest for a long time now.
"I am going to put my feet up for a few months. I will definitely take the summer off. I am looking forward to watching the football. I will watch England in the European Championships and I have two new puppies so am full-time dog training at the moment!"
And although most people remember Robertson for his Olympic silver medal in Athens in 2004, he said his career highlight was the World Championships win in Madrid in 2006.
"The Olympic medal is always the one people talk about," Robertson said.
"But for me stepping on top of the World Championships podium and receiving gold cannot be beaten.
"You forever live with the tag of being World champion so that is just slightly higher than the Olympic medal, even though both were incredible."
Robertson, a former world number one in mixed doubles, won the English mixed doubles six times and the English doubles title nine times.
He also won the World Championships, European mixed doubles and Commonwealth gold medals with Gail Emms, who retired in 2008.