Stacie Powell sets new British record at Olympic diving trials
By Nick Hope
BBC Sport reporter at the GB Olympic diving trials in Sheffield.
Last updated on .From the section Olympics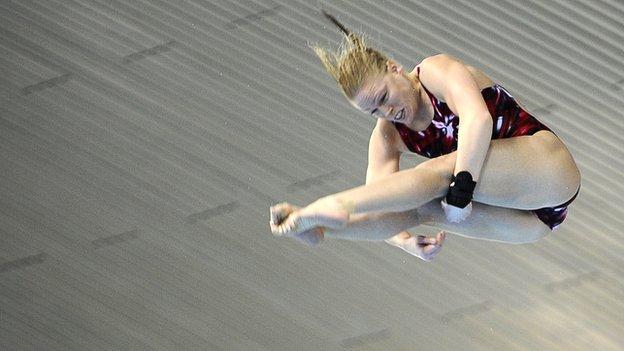 Beijing Olympian Stacie Powell edged closer to a place at the London Games by winning a closely-fought women's 10m platform final at the GB trials in Sheffield.
Powell's 376.05 score was a new British record, but Tonia Couch and Monique Gladding also recorded personal bests.
"Everything went according to plan and I'm so pleased," Powell told BBC Sport.
"I beat my last PB by six points so I now want to score more than 400, hopefully at the Olympics."
Powell, 26, who finished eighth at last month's European Championships, missed most of the 2011 season with appendicitis and a subsequent infection.
"The pressure today was probably a little bit more [than in Beijing] because this time last year I was bed-ridden," said the Southampton-based diver.
"I've had to really come in with a bang to prove to everyone that I was back and also to qualify for London, so I'm really pleased I've done that."
Veteran diver Gladding has endured her own struggles during the last 18 months.
She was left battling for her life after fracturing her skull through striking her head on the platform during a competition in Russia.
The 30-year-old marked her return to form at the Olympic test event earlier this year, where she helped GB secure the maximum of two berths at the London Games, in the 10m platform individual event.
"Obviously I want to be on the top spot, but I can't do anything more than I did tonight," Gladding told BBC Sport.
"I have had to dig deep before, but this last year has honestly taken everything out of me.
"Every step I've taken has been about growing my confidence again and really enjoying diving and, after last year, standing here today scoring among some really world class girls is something really special and I've got to hold my head high and be proud of what I've done."
Second-placed Couch, who will partner Sarah Barrow in the 10m platform event in London, is likely to be Gladding's biggest obstacle for a place in the individual event.
The 22-year-old also hopes the fact she has already qualified does not count against her.
"Everyone's fighting for those two spots so it was really tough today with everybody diving really well, but hopefully I've done enough," she said.
"We'll have to see if I'm allowed to do both. I would really love to!"
In the men's 3m springboard final, 17-year-old Jack Laugher continued his impressive season with a personal best total in the morning's preliminaries and secured a comfortable finals victory to guarantee an Olympic berth.
GB number two Chris Mears dropped a few of his dives and was surprisingly beaten by Oliver Dingley.
"Hopefully our performance director Alexei [Evangulov] will see that I'm still a good diver and that I deserve that place," said Mears.
The GB diving team for the London 2012 Olympics will be officially announced on Monday.