GB's David Florence wins C1 & C2 gold at Canoe Slalom World Cup
Last updated on .From the section Olympics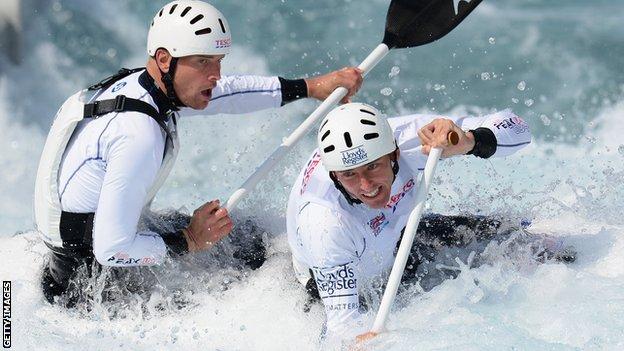 Great Britain's David Florence made history by becoming the first man to win two gold medals at a Canoe Slalom World Cup across two classes.
The 29-year-old Scot won the individual C1 gold on Saturday before teaming up with Richard Hounslow to take victory in the C2 on Sunday in Cardiff.
"It is such an 'on the day' sport, so to win any medal at all is fantastic," Florence told BBC Sport.
"To win two is amazing and two golds is unbelievable. It is just the ultimate."
Florence approached Hounslow, who competes in the individual kayak (K1), after the Beijing Olympics four years ago about combining in the double canoe, where both paddlers kneel down and have a single paddle each.
Florence admited their first victory together in a World Cup event came as something of a surprise.
Flying through the course with control and composure, they laid down a fast and clean run to take the lead in 108.29 seconds with no penalties.
They then had to wait while the remaining seven boats - including triple Olympic champions Pavol and Peter Hochshorner of Slovakia, who clocked a quicker time, 105.04 seconds, but with 4 penalty seconds, to finish third - followed them down.
"We weren't expecting it," Florence said. "We knew we were capable of putting down a good run and if we did that, we could be up there in the medals. But although we have had a number of medals, we have never won a World Cup before.
"It hadn't gone perfectly so I was a bit surprised when I saw the time and realised it was a bit better than it felt.
"It is a huge achievment and something we will be very proud of for the rest of our days."
The duo will continue their Olympics preparation at further World Cup events in Pau, France, and Seu D'Urgell, Spain, over the next two weekends.
Hounslow insists they will not be distracted by the greater expectations that will now surround them in the build-up to the Games.
"If you start worrying about what other people are thinking, that is when things can go wrong,"he said. "We just have to focus on our job, make a plan and execute it as best we can and then hopefully come London, it will be the same colour again.
"Probably the top 10 in the world are as good as each other, so it is just about how you deal with the pressure on the day."
Tim Baillie and Etienne Stott, who will also compete for Team GB in London in the C2, finished fourth, clocking 107.52 seconds, but with two penalty seconds.
In Saturday's final of the individual C1, Florence was the last paddler to go but held his nerve and executed the off-set sequence perfectly to post a time of 100.46 seconds with no penalties and take the win at the Cardiff International White Water Centre, ahead of Russia's Alexander Lipatov and Alexander Slafkovsky of Slovakia.
Florence said on Saturday: "To win a World Cup gold at this level of racing is incredible as they don't come round very often and to do it on home soil just means a huge amount. It is also a huge boost before the Olympic Games."
GB head coach Jurg Gotz added: "We always planned to target the European Championship [where Florence and Hounslow also won gold last month] and the World Cup here in Cardiff on home soil to test how our preparations are going for the Olympic Games and David certainly gave a stand-out performance."
In the women's C1, Mallory Franklin took bronze with 16-year-old Kimberley Woods finishing fourth in her first World Cup.
Fellow Briton Fiona Pennie finished sixth in the K1 final on Sunday.