Fencing selectors 'didn't have contact details'
By Michael Short
BBC Sport
Last updated on .From the section Olympics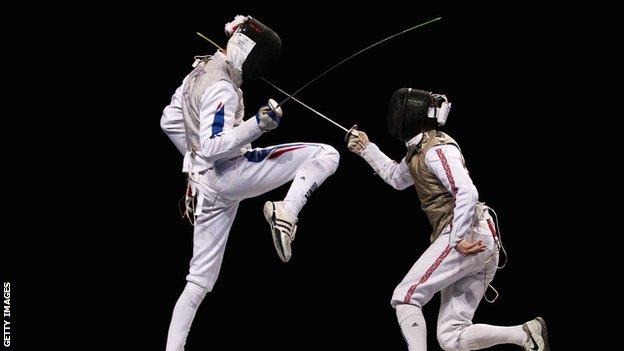 Fencer Keith Cook may miss out on the Olympics because he did not give selectors his contact details.
British Fencing told the former British champion it did not know he wished to be considered for selection.
The Scot, who will appeal, said: "I have been representing Great Britain for years, of course they had my contact details."
British Fencing's David King told BBC Sport Cook was considered but did not reach the required standard.
The 31-year-old believes he is a genuine medal contender, having beaten four of the world's top 16 players and won five medals at Commonwealth Games.
However British Fencing said athletes who wanted to be considered for the Games were required to pass on their contact details as part of a formal selection process and insist Cook failed to do this.
British Fencing's chief executive Piers Martin told Cook in an email: "British Fencing therefore did not consider that you wanted to be considered for selection."
But Cook said: "This is something I have been aiming for for the last few years so to suggest they did not know I wanted to be considered for selection is just crazy."
King added: "As part of the selection process everyone was informed and everyone in contention knew what the selection process was.
"Keith did not register for the process. It is unfortunate he is falling back on that as the reason for his non-selection.
"The reason is he did not meet the grade. We will continue to support his aspirations, he's very talented, but not everyone gets to go to the Olympics."
Great Britain, as the host nation, has 10 fencing places but only two athletes, Richard Kruse and Natalia Sheppard, have met the Olympic qualification standard.
A further five athletes have been chosen on a discretionary basis, with three more discretionary places due to be announced on Tuesday.
Athletes were also allowed the opportunity to put their case to British Fencing selectors and strengthen their claims for inclusion.
Edinburgh-based Cook is appealing to British Fencing on the basis that he was denied the chance to be part of this formal selection procedure.
Cook says he would have been able to point to recent injuries affecting his world ranking, as well as wins over some of the world's top fencers.