Tom Daley wins individual gold at GB Olympic diving trials
By Nick Hope
BBC Sports reporter at the Olympic diving trials in Sheffield
Last updated on .From the section Olympics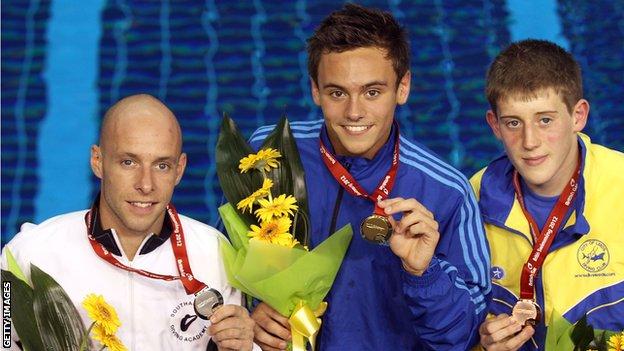 European Champion Tom Daley secured a comfortable victory in the individual 10m platform final in Sheffield to all but confirm his place at London 2012.
Daley, 18, who won the synchronised event alongside Peter Waterfield on Friday, dropped the fifth of six dives in the final.
But he was impressed with his consistency overall.
"I do lots of repetitions in training so that I can go into competition and dive well," Daley told BBC Sport.
"I've lost a lot of weight since last year and been making sure I sharpen up in time for the Games and it seems to be working."
The Plymouth-based diver, who won his second senior European Championship title in April and earlier in the year claimed overall gold in the World Series, admits his form is not guarantee of success this summer.
"It's tough to say how it's going to go in the Olympics because it's such an on the day sport," said Daley.
"For me though, I know that I'm in good shape at the moment so touch wood it carries on like this."
Team-mate Waterfield endured a more difficult day in his first individual competition since missing the Europeans with a neck injury.
"I'm feeling pretty good, I just didn't dive too well today," admitted the London-born diver.
"These niggling injuries aren't stopping me diving, they are just there and when it's in the back of your mind it's hard to concentrate."
Waterfield added: "Hopefully they are going to be out of the way now and I'll get a good block of training in where I can get my consistency back."
In the day's other final, Rebecca Gallantree claimed gold in the individual 3m springboard final with a new personal best of 326.05.
It was an impressive response to the morning's preliminaries where Gallantree failed to hit the Olympic qualification standard of 280.
The 27-year-old, who will compete alongside Alicia Blagg in the 3m synchronised diving event in London, feels she has done enough to convince GB performance director Alexei Evangulov that she deserves an individual place as well.
"I'm not going to lie, I had a few doubts this morning after the prelim but I knew that wasn't the way to think about it so I sorted my head out," Gallantree told BBC Sport.
"I came back to the final knowing it was a different competition and knowing that I could do it.
"To get a British record, well I'm really chuffed with that!"
Hannah Starling, who dazzled in the morning session, struggled in the final and after dropping two key dives finished third behind Blagg.
As such, she may miss out on a place at this summer's Games.
Gallantree was quick to pay tribute to her British team-mates though.
"I absolutely couldn't have done it without the young ones Hannah and Alicia pushing me every step of the way for the last couple of years.
"They've pushed me to get better and better," said Gallantree.
An official announcement of the London 2012 Team GB diving squad will be made around midday on Monday.