Liz Blatchford seeks legal advice over Olympic triathlon omission
Last updated on .From the section Olympics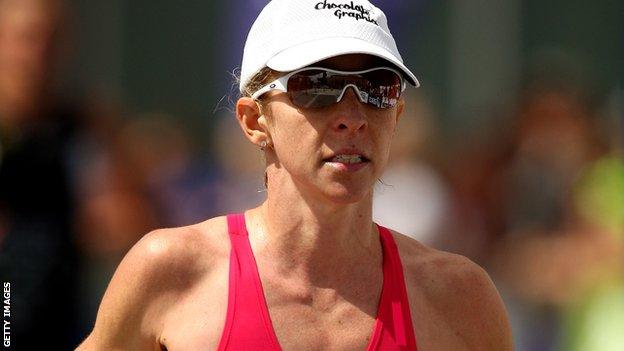 British triathlete Liz Blatchford will seek legal advice after her omission from the squad for London 2012.
The three-woman line-up comprises world champion Helen Jenkins along with Vicky Holland and Lucy Hall.
Blatchford said on her website: "This past week we requested a review of the selection process and at this point their selection has been upheld.
"I am seeking further legal advice and will shortly make a decision as to whether I will pursue it further."
Blatchford claimed that Hall's selection was part of a policy by British Triathlon to pick 'domestiques', athletes who sacrifice their own race to help others win.
In Blatchford's opinion, it is a policy that is not needed.
"Our highest ranked athletes - the Brownlees and Helen Jenkins - have proven time in time out that they do not need any help to win, so I really feel that giving Olympic spots to domestiques is a complete and utter waste and truly unfair to those athletes like myself who have given everything to be the best triathletes they can be," she added.
Blatchford is ranked 20th, over 100 places higher than Hall, in Olympic qualification rankings, but failed to reach the team on merit according to strict qualification criteria - which required podium finishes in world series races.
Hall recorded her first senior international victory in March, but although she has limited experience at world level she is known for her speed in the swim and bike disciplines.
The possible legal move follows in the wake of a similar issue over Olympic selection for the British Taekwondo squad, where Aaron Cook was left out in favour of the much lower ranked Lutalo Muhammad in the 80 kg category.
British Triathlon declined to comment on Blatchford's possible legal move.