London 2012: Fencing selectors defend team as squad completed
By Ollie Williams
BBC Olympic sports reporter
Last updated on .From the section Olympics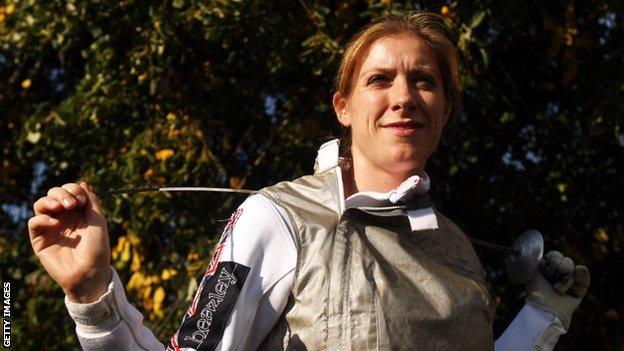 British Fencing has defended the team it selected for London 2012 after finalising its 10-strong Olympic squad.
Eight of the team are going to the Games by virtue of discretionary "wild cards" as Britain is the host nation.
Performance manager Alex Newton told BBC Sport: "There would always be tricky decisions and people not liking them because there's so much at stake."
The last three competitors - Husayn Rosowsky, Anna Bentley and Sophie Troiano - were confirmed on Tuesday.
Rosowsky completes the men's foil team line-up with Bentley and Troiano added to the women's foil team, alongside fencers announced last week in the foil, sabre and women's epee disciplines.
Rosowsky, 21, said: "The opportunity to compete in front of a home crowd will make a massive difference to our chances. I'm not here just to make up the numbers."
Fencing is the latest sport to experience a series of acrimonious disputes over the composition of its Olympic team, as sports subjectively assign host-nation places that would not normally be on offer outside a home Games.
Men's foilist Richard Kruse and Natalia Sheppard, in women's foil, were the only two Britons to qualify for the Games on merit without recourse to the host-nation places available.
The subsequent decision to select young sabreuse Sophie Williams over the more experienced Jo Hutchison, as well as nominate a team in women's foil - an event where some consider British medal hopes minimal - has angered a section of the British fencing community.
Meanwhile, epee fencer Jon Willis has announced his retirement after being overlooked by the selectors, and foil fencer Keith Cook is appealing after being omitted because, he says, of confusion over his contact details.
"I think [appeals and debate] have got to be expected given that it's a home Olympics and these are places given to athletes who perhaps may never otherwise get the opportunity to go to an Olympics," said Newton.
"Any athlete wants to go to a home Games. Don't we all? I'm not surprised that some people have been hugely disappointed, but I have been surprised by people taking it out on other athletes.
"Is it Sophie Williams's fault she has been selected? No. Has it knocked Sophie's confidence? Wouldn't it knock yours if you had a half-page spread in the Times saying your dad bought you a place at the Olympics?
"If you look at Sophie's age and where she is in her career, she's currently 21 years of age. There's five years' difference between her and Jo. I'm not suggesting Jo isn't a good fencer, she's incredibly consistent, but actually Sophie is nearly as consistent and at this stage she has better results for her age in her first senior year than Jo or Chrystall [Nicoll, also omitted from the team] had."
Willis, 31, had an appeal against his non-selection - alleging Newton had been biased against him - turned down, but also told BBC Sport he disagreed with the nomination of a women's foil team ahead of him.
"My biggest gripe is there's a women's foil team taking up two wild-card places," said Willis. "If there was no women's foil team selected, I'm pretty sure I would have gone.
"I don't want to say anything against the athletes - we've been friends for many years - but if you look at my record and theirs, they don't compare. You can get all the stats you like but, my results versus theirs, I'm the better fencer. For some reason, they've selected a women's foil team."
The women's foil team is almost certain to face world number one Italy, who have won the majority of events in the past four years, early in the Olympic competition - making any hope of a medal unlikely.
Newton defended the selection panel's decision, explaining that even a defeat by Italy would leave the GB team fighting to finish fifth or sixth, which would be considered creditable.
"At the time of selection, Jon Willis was ranked 93rd in the world, with [women's foilists] Anna Bentley 84th, Martina Emanuel 71st and Natalia Sheppard 52nd.
"Jon was ranked lower than three of the four women's foilists, so where would the justification be?
"We analysed it slightly more than that and said, is anybody else in an individual event likely to get a result that's credible? We're not sure. Can the foil teams get a credible result? We believe they can, even if they may not get into the medal zone."