London 2012: Nicola Wilson shrugs off Olympics setback
Last updated on .From the section Olympics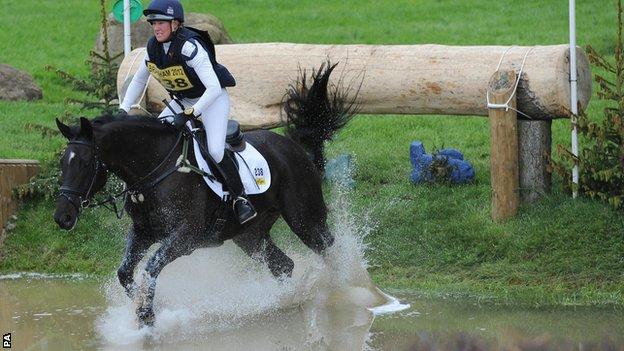 North Yorkshire international eventer Nicola Wilson is determined to stay positive after just missing out on Olympic selection.
Zara Phillips, the Queen's grand-daughter, was selected ahead of Northallerton-based Wilson.
And Wilson told BBC Radio York she was "absolutely gutted" after being made first reserve for the five-strong team.
"It's not all over yet, but being realistic I have to make alternative plans," she said.
"It's been a difficult few days," admitted Wilson, who was told she and her horse Opposition Buzz were first reserve in a telephone call from GB team performance director Yogi Breisner.
"There's still six weeks to go, and as much as I desperately don't wish bad luck on anybody, if anything were to happen, we would be there to stand in if necessary.
"Even the horse has been looking sad, because as much as you try hard not to pass on vibes, they are sensitive animals and he can feel everybody is a bit down. I keep telling him he's a superstar, he's done nothing wrong, it's just circumstances!"
Wilson missed out after Opposition Buzz made two errors during the show jumping section of the recent Bramham Horse Trials.
"Everything hinged on Bramham, and he started so well in dressage, and did an outstanding cross-country, but those two rails down in show jumping pushed us down into the reserve slot.
"I've texted the team to say how thrilled I am for them and had some lovely replies.
"I didn't text Zara because I haven't been on the team with her yet, but I do wish her the very best of luck. She brings a lot of publicity to our sport, which is good."