London 2012: David Millar named on Team GB Cycling shortlist
Last updated on .From the section Olympics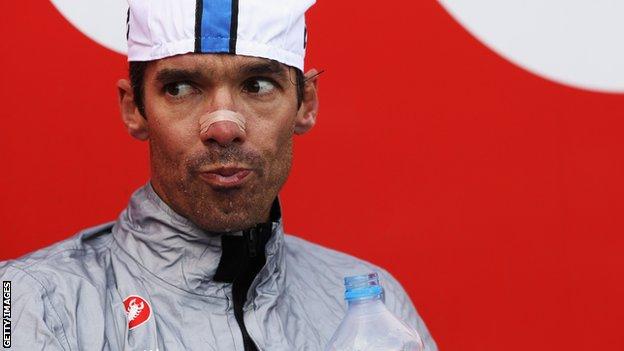 David Millar moved closer to competing at this summer's Olympic Games when he was named on the shortlist of riders for the Team GB road cycling squad.
But a British Olympic Association (BOA) lifetime ban for athletes convicted of doping was overturned in March.
Millar is among a group of eight men from which British Cycling, later this month, will pick five to compete.
Mark Cavendish, Steve Cummings, Chris Froome, Jeremy Hunt, Ian Stannard, Ben Swift and Bradley Wiggins are the other men vying for Team GB places.
Millar had previously insisted he would not seek to overturn the BOA's lifetime ban and even booked a holiday to coincide with the Games.
But the World Anti-Doping Agency ruled against the stance and the BOA decided to lift its ban, clearing Millar - and athletics sprinter Dwain Chambers - to take part in the Olympics.
"This is the British Olympic team not the British Cycling team", said British Cycling Performance Director Dave Brailsford told BBC Sport.
"It's the BOA's team and the BOA decided that their policy would be that David Millar would be eligible.
"They decide who is eligible and then ask me to chose out of those riders the best team so from my point of view my responsibility is to choose the best team, it's not up to me as an individual to personally bring a viewpoint into that, to say I don't agree or I do agree."
Sir Chris Hoy had previously spoken out in support of lifetime bans, but when asked about Millar's inclusion gave him his full backing.
"Whoever is eligible for the team is eligible for the team and I'll proudly stand next to whoever is selected," Hoy told BBC Sport.
"So I have no problems at all with David, it's never been individuals that I had an issue with - it's more about the fact they were taking away a meaningful deterrent against taking drugs. I think all athletes want that."
Millar would not be expected to win a medal - his role would be to help put Mark Cavendish in a position to go for gold in a sprint finish.