London 2012: Tina Cook boosted by Team GB selection
Last updated on .From the section Olympics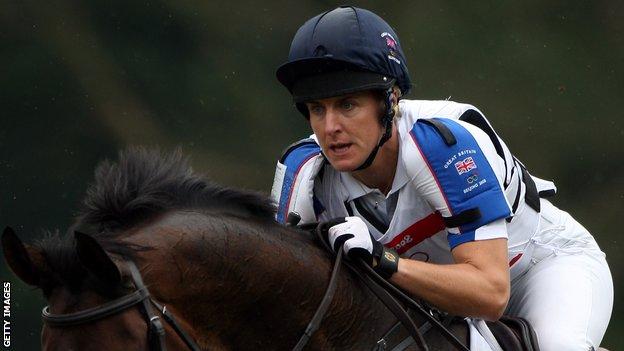 Sussex eventer Tina Cook says her selection to compete for Team GB at London 2012 has given her a timely boost after a difficult year.
The 41-year-old's father, Grand National-winning trainer Josh Gifford, died of a heart attack in February.
She told BBC Sussex: "It's been a very dramatic year with the horse nearly dying from colitis and losing my dad.
"It's something we were struggling to come to terms with so this has been a real boost and is very exciting."
Cook, who won two bronze medals at the Beijing Games in 2008, added: "Dad was always a busy man and he would have wanted us to carry on.
"It's gone my way so far and I need to keep it up, but it's a step in the right direction."
The Findon-based rider says she still has work to do to get her horse, Miners Frolic, ready for the competition in London.
"We're not ready yet," she continued. "We had the trial in Bramham last weekend but he was three-quarters ready for that.
"It's [about] building him up and it's difficult to keep horses in peak condition.
"There's more training and fitness work to do, and we've got other competitions to go yet.
"My feet are firmly on the ground because I know full well how things could go wrong."
Cook believes her previous experience in international competition was a key factor in her selection.
"The horse and I have proved we can do it on a big occasion by winning the bronzes," she said.
"It wasn't a fluke winning the European Championships the next year.
"The selectors, I'm sure, are aware of the pressure that will be put on riders this year bearing in mind we'll be on home territory."