London 2012: Tim Brabants will defend his canoe sprint title
Last updated on .From the section Olympics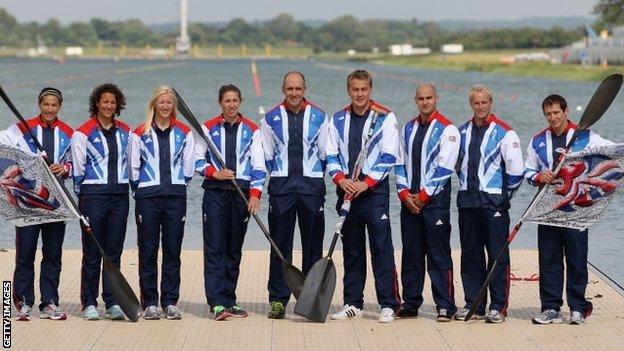 Olympic champion Tim Brabants will defend his Olympic K1 1000m title after the 35-year-old was confirmed in the Team GB canoe sprint squad for London.
Brabants, who to earn his place, is one of nine athletes in the team for the canoe sprint events at Eton Dorney.
"I am really excited to be selected for my fourth Olympic Games," he said.
"Now the selection process is complete, I can really focus on defending my Olympic title in London 2012."
Ed McKeever is a leading hope in the K1 200m after recent World Cup success, while Jonathan Schofield and Liam Heath, who have won two World Cup silver medals this year, will compete in the Men's K2 200m.
Richard Jefferies will be the only British athlete to race in the canoe where he is set to compete in both the C1 200m and C1 1000m events.
Jessica Walker, 22, will become GB's first representative in the women's K1 200m event, and Rachel Cawthorn, the 2010 European champion over 1000m and world bronze medallist over 500m, goes in the K1 500m race.
Walker and Cawthorn will team up with Angela Hannah and Louisa Sawers in the women's K4 500m.
Team GB chef de mission Andy Hunt said: "The canoe sprint team has really progressed since Tim Brabants won the first ever medal for Team GB by taking bronze in Sydney back in 2000.
"Having a veteran and defending Olympic champion like Tim in the team will be a huge inspiration to everyone involved, and it is a chance for the younger competitors and the debutants to use that kind of motivation to create their own Olympic legacy."
Men's K1 1000m
Tim Brabants
Men's C1 200m & Men's C1 1000m
Richard Jefferies
Women's K1 200m
Jessica Walker
Women's K1 500m
Rachel Cawthorn
Women's K4 500m
Jessica Walker
Rachel Cawthorn
Angela Hannah
Louisa Sawers