Larry Godfrey profile
From the section Olympics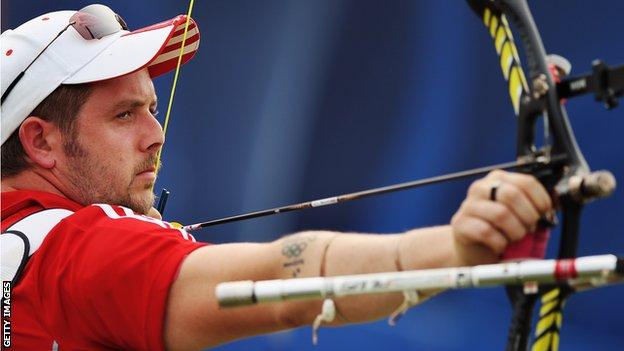 Archery
Career highlights
Godfrey reached the last four at the 2004 Olympics, where he was Britain's only male archer. He narrowly lost to the eventual champion, Marco Galiazzo, in his semi-final before losing the bronze-medal play-off by a single point to Tim Cuddihy of Australia.
He won a team silver medal at the 2007 World Championships, and bronze in the mixed team event with Amy Oliver in 2011.
Did you know?
An aerospace engineer for Rolls-Royce, Godfrey's day job includes repairing engines for the Apache helicopters being used by British troops in Afghanistan.
He often practises archery in his house - shooting arrows through the hallway at a target in his kitchen.
Personal
Bristolian Godfrey, who was introduced to archery by his father as a nine-year-old, has an Olympic tattoo on his right forearm.
It cost him £60 ahead of the 2004 Games and is dominated by the Team GB lion logo and five Olympic rings.