London 2012: Tim Brabants 'back to his old self' after injury
By Ollie Williams
BBC Olympic sports reporter
Last updated on .From the section Olympics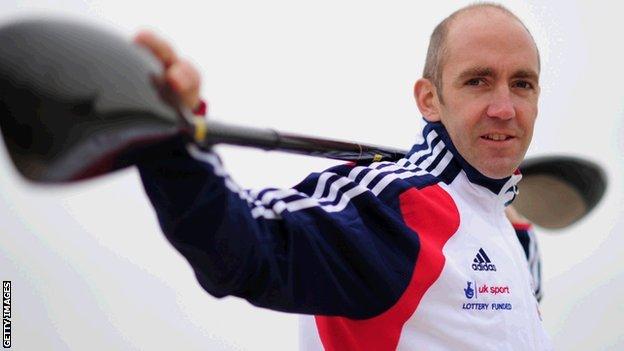 Tim Brabants can successfully defend his Olympic title at London 2012 despite a "career-threatening" injury, according to Britain's canoeing chief.
Brabants, 35, won gold in the K1 1000m sprint canoe event at Beijing 2008 but had major shoulder surgery last year.
He was named to Team GB for his fourth consecutive Olympics on Thursday having won a selection battle for his place.
Performance director John Anderson said Brabants "looked like he was back to his old self" in the deciding race.
Brabants outclassed rival Paul Wycherley at the World Cup in Duisburg, Germany - the third and final selection race for the British Olympic team - to claim the one spot available to a Briton in the men's K1 1000m at London 2012.
"A career-threatening injury two years ago really put him behind where he wanted to be," Anderson told BBC Sport.
"We're talking a serious injury. Last year was difficult for Tim with his rehab and he basically didn't have enough time to get back.
"I think it's the measure of an Olympic champion to come through that adversity and deliver the performances. Tim's aspiration is to go out and defend his Olympic title. On his day, he's capable of challenging the podium in London."
Wycherley, 26, went to the 2011 World Championships instead of a struggling Brabants after beating the latter in a one-off selection race last summer.
Speaking as his place on the GB team for the Olympics was announced, Brabants said: "[For the past year] I've been fighting off the back foot more than in previous years, because of the shoulder surgery I had. Now we're back where we want to be.
"Four years later, it doesn't get any easier. We know what we did to achieve what we did in Beijing - the training, the work and the mental preparation - now it's following a similar pattern but it's harder, because I'll need to go faster to win in London."
Reigning world champion Adam van Koeverden of Canada, Norway's Eirik Veraas Larsen and Australia's Ken Wallace are among the candidates looking to challenge Brabants this summer.