London 2012: Foil squad targeting final, says Anna Bentley
Last updated on .From the section Olympics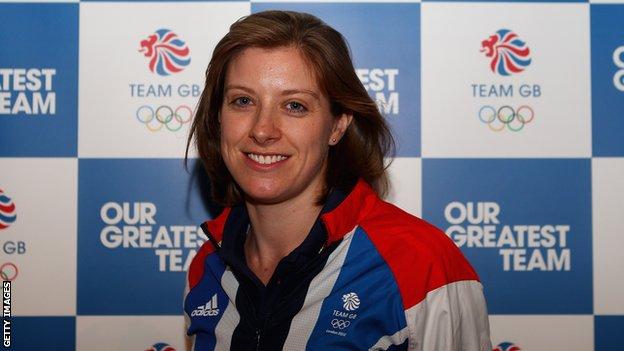 Three-time British champion Anna Bentley has said a top-eight finish would constitute a successful Olympics for Team GB's foil squad.
Norwich's Bentley, 31, will be joined by Natalia Sheppard and Sophie Troiano in Britain's foil line-up for London.
"The aim for the team is to make the Olympic final, which is the top eight teams," she told BBC Radio Norfolk.
"It would be incredible to make it and we have a good chance. Everything we do is focused on making sure we perform."
Medal expectations are low for GB, with
But Bentley is hoping to cross swords with fencing's top nations - and possibly come up against three-time Olympic gold medallist Valentina Vezalli.
"The Italians are the ones to beat. Valentina Vezalli is not only the most successful fencer ever, she's probably one of the best female Olympians ever too," said Aberdeen-born Bentley, who finished 31st at this week's European Championships.
"We may have to face the Italians in the team event and that will be pretty amazing. The Russians are always strong, as are the Japanese.
"It's more of a global sport than it was 20 years ago when it was dominated by Europe."
The former Norwich High School for Girls pupil, who has been in the sport for 20 years, was not assured of selection for London 2012 and even bought tickets for the athletics in case she was overlooked.
"In 2005, I was in Trafalgar Square when it was announced London would be having the Games," she said.
"I was already competing then so that made me decide I was going to go for it.
"A year ago I didn't know how it would play out and if I was going to make it so I got myself tickets for the athletics. I'd be glued to the television if I wasn't there.
"It's been very hard from a financial aspect. I have pretty much given up working, apart from a couple of hours coaching in London.
"In terms of real money, I'm just surviving as it were. It's a big commitment and you're not guaranteed success at the end of it. But it's finally come good for me."