London 2012: Ivan Ukhov's road to the Olympics
Last updated on .From the section World Olympic Dreams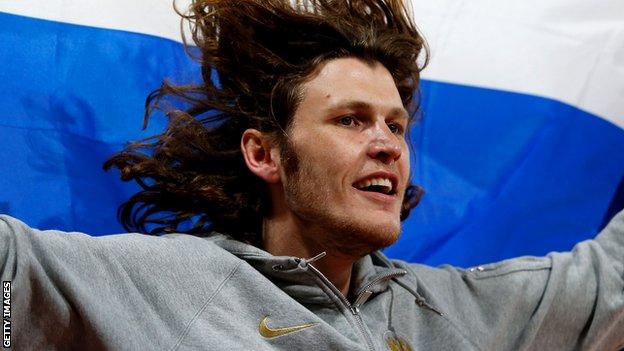 LATEST NEWS - 2012
Tue 07 Aug 12:
The 26-year-old from Russia overcame a last minute wardrobe malfunction to win gold with a jump of 2.38m. Success for Ivan comes four years after he received a "strong warning" for appearing drunk at an international competition in Lausanne.
"I am very happy with the gold medal. I had a long way to go, that's it," he said. "I don't like the rain. I was preparing for wet weather, mentally. The rain did not distract me, and it wasn't a rainstorm.
"I could have set another Olympic record tonight if I had not been stopped. When the journalists started to trespass on the track, I decided not to jump further."
Fri 06 Jul 12:Ivan Ukhov cleared 2.39m at the Russian Championships to reset his personal best and the world's highest jump of 2012.
Thu 07 Jun 12:Ivan Ukhov has set an outdoor personal best in Opole, Poland.
His 2.37m clearance is also the world-leading height of 2012. He went on to unsuccessfully attack a Russian record height of 2.41m.
Sun 11 Mar 12: Despite finishing third at the World Indoor Championships, Ivan Ukhov accidentally placed himself on the part of the podium intended for the silver medallist.
Fri 24 Feb 12: At the Russian Indoor Championships, Ivan Ukhov cleared 2.34 metres to see off the challenge from Olympic champion Andrey Silnov.
LATEST NEWS - 2011
Sat 23 Apr 11: World Olympic Dreams has discovered Ivan Ukhov's Achilles heel - he is vulnerable in the rain.
"I can't wear the kind of shoes most high jumpers use, the ones with spikes in the heels. I can only jump well without spikes. So, in rainy conditions, I lose my grip and that makes it harder for me," said Ivan.
Sat 05 Mar 11:Ivan Ukhov has defended his European Indoor Championship title by clearing 2.38m to win gold in Paris.
"I know I'm in world record shape this season and I wanted to break the record," Ivan said. "However, there were too many attempts in the competition and I did not save enough energy till the end."
Fri 18 Feb 11: After a string of impressive results, Ivan has been named European athlete of the month for January along with Great Britain's Jessica Ennis.
Thu 10 Jan 11:Ivan has again narrowly missed out on the world indoor high jump record.
He won the Europa Shopping Center High Jump competition in Banská Bystrica, Slovakia with a jump of 2.38m but couldn't clear 2.44m, to beating Javier Sotomayor's 2.43m world indoor record.
Sat 29 Jan 11:Ivan jumped 2.38m on his season's debut at the Hustopece indoor high jump competition.
LATEST NEWS - 2010
Sat 11 Sep 10: At the Opole festival in Poland, Ivan Ukhov produced the highest outdoor jump of 2010 - 2.36m to secure his 14th win of the year. This is 1cm better than his world-leading jump in 2009.
Thu 19 Aug 10: Ivan added to his success in London by winning at the Diamond League meeting in Zurich with another jump of 2.29m.
Sat 14 Aug 10: Ivan won the high jump at the London Diamond League meeting with 2.29m.
Thu 29 Jul 10:Ivan took silver at the European Athletics Championships in Barcelona. He jumped 2.31m to finish behind Aleksander Shustov, who cleared 2.33m.
Mon 26 Jul 10:Ivan Ukhov has opened up about his drunken antics at a competition in 2008.
"I need to admit, that I had a breakdown in Lausanne, everyone turned their back on me," he told a Russian newspaper.
"Even my native city of Yekaterinburg crossed me out from its history as a sportsman and person. I locked myself in, not finding support from anyone.
"Now it is all in the past. I cleared my name and turned over a new leaf. People in Moscow believed in me and I work to justify their trust in me."