London 2012: Injured Dan Sliwinski out of Olympics
Last updated on .From the section Olympics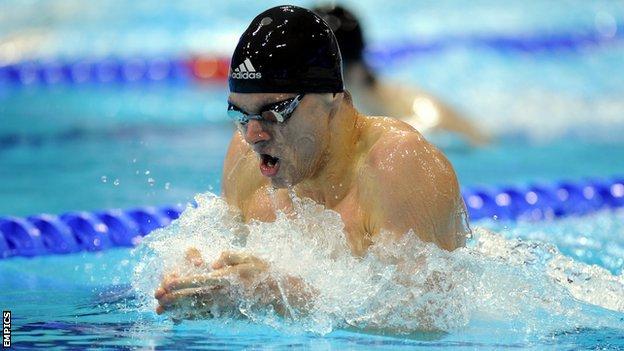 Dan Sliwinski has withdrawn from the Team GB swimming squad for the London 2012 Olympic Games.
The Stockport ITC swimmer suffered a shoulder tendon injury and will undergo surgery next week before starting a three-month rehabilitation programme.
"It is an athlete's worst nightmare, but I am still young enough to think about Rio 2016," the 22-year-old said.
Team GB will select a new athlete for the 100m breaststroke event after the second round of trials in Sheffield.
Those trials take place between 20 and 23 June at the ASA National Championships.
Sliwinski is determined to use the rehabilitation programme to recover full fitness, and to extend his swimming career. In the past two and a half years, he has also had two broken wrists and a knee operation.
"I have had a couple of injuries and I need to go back and rebuild the foundations," he said.
"I need to address this injury before it gets worse. I still want to swim for as long as I am physically able to and this operation will help with that.
"The important thing I need to focus on now is my recovery."
Four other swimmers from Stockport ITC will be representing Team GB at London 2012.
European silver medallist James Goddard, 29, swims in the men's 200m individual medley while fellow European silver medallist Sophie Allen, 20, competes in the same event for the women.
Michael Rock, 25, swims the 100m butterfly and double world champion Keri-Anne Payne, 24, competes in the 10km open water.