Lizzie Neave's bronze ends World Cup frustration for Britain
Last updated on .From the section Olympics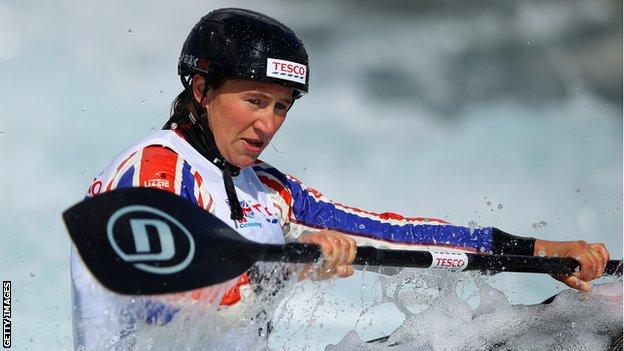 Lizzie Neave won K1 bronze in the final day's competition at the second Canoe Slalom World Cup to end a frustrating event for Britain's paddlers on a high.
Neave improved her semi-final time by three seconds in the women's kayak in Pau to win her first medal of the year.
Tim Baillie and Etienne Stott finished fifth in the C2 final and David Florence and Richard Hounslow failed to make it past the semi in 14th place.
Louise Donington was 19th in the women's K1 semi-final.
Neave took the early lead in the K1 final but was overhauled by Spain's Maialen Chourrant and France's Carole Bouzidi.
"I'm really pleased to have built through the competition and put in a good run when it counted," she said.
"I felt much more in control this weekend, it's been a tough course and all the top boats are here, so it fills me with confidence for the rest of the season.
"It's great to get back on the podium as it has been a while."
On Saturday, London 2012 medal hopeful Florence and Mark Proctor's attempts to make the C1 individual final fell apart when they incurred 50-second time penalties after they were unable to successfully pass through the 21st gate on the course in the Pyrenees.
Campbell Walsh made the same mistake in the K1 kayak final and the punishment saw him finish in 10th place.
Walsh's team-mate Richard Hounslow struggled and came 23rd.
Florence made history in Cardiff last weekend by becoming the first man to win Canoe Slalom World Cup gold in two classes, but was left to rue his single error.
The 29-year-old Scot said: "I didn't get my whole head through gate 21 so ended up with a 50-second penalty. It's disappointing, my time was good enough for the final, but sometimes it just doesn't go your way."
The final World Cup of the season takes place in La Seu d'Urgell, Spain, from 22-24 June.
Pau Results:
C1: 1 Tony Estanguet (Fra), 2 Grzegovz Kijanek (Pol), 3 Alexander Slafkovsky (Svk). Selected Others: 25 David Florence (GB), 29 Mark Proctor (GB).
K1: 1 Etienne Daille (Fra), 2 Jan Vondra (Cze), 3 Lucien Delfour (Aus). Selected Others: 10 Campbell Walsh (GB), 23 Richard Hounslow (GB).
K1W: 1 Maialen Chourraut (Spa), 2 Carole Bouzidi (Fra), 3 Lizzie Neave (Gbr). Selected Others: 19 Louise Donington (Gbr), 35 Fiona Pennie (Gbr)
C2M: 1 Pierre Labarelle & Nicolas Peschier (Fra), 2 Ladislav Skantars & Peter Skantar (Svk), 3 Minghai HU & Junrong SHU (Chn). Selected Others: 5 Tim Baillie & Etienne Stott (Gbr), 14 David Florence & Richard Hounslow (Gbr), 20 Adam Burgess & Greg Pitt (Gbr)