Mo Farah to defend European 5,000m title in Helsinki
Last updated on .From the section Olympics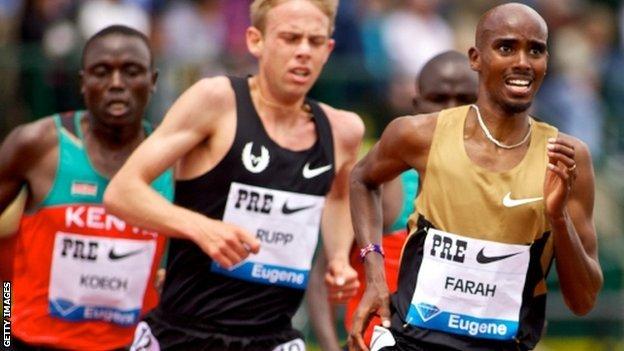 Mo Farah will defend his European 5,000m title after being given special dispensation to compete in Helsinki as well as at the GB Olympic trials.
The European Championship begins on 27 June, just three days after the British Olympic trials end in Birmingham.
UK Athletics say any other athlete who qualifies for London 2012 at the weekend will not compete in Helsinki.
However, Farah will be an exception as the 5,000m in Finland does not involve heats and suits his racing schedule.
Farah became the first British man to win the 5,000m and 10,000m double at the outdoor European Championships in Barcelona two years ago, but will not defend the longer distance in Helsinki.
A provisional Great Britain squad of 109 athletes has been named for the Euros, which are being held in Olympic year for the first time and begin just 37 days before the athletics gets under way in London.
Men
100m: Harry Aikines Aryeetey; Dwain Chambers, James Dasaolu, Richard Kilty, Mark Lewis-Francis
200m: James Alaka; Chris Clarke, James Ellington, Christian Malcolm, Danny Talbot
400m: Richard Buck, Luke Lennon Ford, Nigel Levine, Rob Tobin, Conrad Williams
800m: Mukhtar Mohammed, Andrew Osagie, Michael Rimmer, Gareth Warburton
1500m: Andy Baddeley, James Brewer, Tom Lancashire, Ross Murray, James Shane
5000m: Mo Farah, Rory Fraser, Mitch Goose, Nick McCormick
10,000m: Keith Gerrard, James Walsh
3000m Steeplechase: Luke Gunn, Rob Mullett, Stuart Stokes, James Wilkinson
110m Hurdles: Richard Alleyne, Lawrence Clarke, Gianni Frankis, Andrew Pozzi, William Sharman
400m Hurdles: Jack Green, Ben Sumner, Rhys Williams, Nathan Woodward, Rick Yates
High Jump: Martyn Bernard, Robbie Grabarz, Samson Oni, Tom Parsons
Pole Vault: Luke Cutts, Max Eaves, Andrew Sutcliffe
Long Jump: JJ Jegede, Julian Reid, Chris Tomlinson
Triple Jump: Larry Achike
Shot Put: Carl Myerscough
Discus: Abdul Buhari, Brett Morse, Carl Myerscough, Lawrence Okoye
Hammer: Mark Dry
Decathlon: Ashley Bryant
4x100m: Aikines Aryeetey, Chambers, Kilty, Tyrone Edgar, Ellington, Malcolm, Talbot
4x400m: Buck, Michael Bingham, Lennon Ford, Levine, Tobin, Williams
Women
100m: Montell Douglas, Jeanette Kwakye, Ashleigh Nelson, Anyika Onuora, Abi Oyepitan
200m: Onuora, Oyepitan, Jodie Williams
400m: Shana Cox, Lee McConnell, Kelly Massey, Marilyn Okoro, Nicola Sanders
800m: Emma Jackson, Jenny Meadows, Okoro, Lynsey Sharp, Jemma Simpson
1500m: Lisa Dobriskey, Jemma Simpson, Charlene Thomas, Steph Twell, Laura Weightman
5000m: Julia Bleasdale, Helen Clitheroe, Twell
10,000m: Jo Pavey, Charlotte Purdue, Gemma Steel, Sarah Waldron
3000m Steeplechase: Hatti Archer, Eilish McColgan
100m Hurdles: Tiffany Porter
400m Hurdles: Meghan Beesley
High Jump: Isobel Pooley
Pole Vault: Kate Dennison, Sally Peake
Long Jump: Abigail Irozuru, Shara Proctor
Triple Jump: Yamile Aldama
Shot Put: Eden Francis
Discus Throw: Francis, Jade Nicholls
Hammer Throw: Sophie Hitchon, Sarah Holt
Javelin Throw: Goldie Sayers, Laura Whittingham
Heptathlon: Louise Hazel
4x100m: Douglas, Hayley Jones, Kwakye, Nelson, Onuora, Williams
4x400m: Eilidh Child, Cox, Massey, McConnell, Christine Ohuruogu, Sanders