'There was real controversy, Wogan wanted me on' - Elliott

By Sam Sheringham
BBC Sport
Last updated on .From the section Olympics
It was when the third item of hate mail arrived through the door of his parents' house in Rotherham that Peter Elliott decided enough was enough.
"I read the first three, then I asked my parents to just burn any more that arrived - I didn't want to see them," he recalls.
"It's funny but I received more than 1,000 good luck cards before and after the Olympics, but I still remember those three letters coming through."
To this day Elliott, now 49 and regional director for the north at the English Institute of Sport, is bewildered and slightly shaken by the controversy that saw him vilified in the build-up to his participation in the 1988 Olympic Games.
The unassuming Yorkshireman, who spent much of his career combining athletics training with working as a joiner for British Steel, had been selected to represent Great Britain in the 1500m ahead of national hero Sebastian Coe, who would have been defending the title he won at the two previous Games.
The decision prompted the Daily Mirror to run a campaign for Coe to be reinstated. The paper published a cartoon depicting Elliott as a carthorse and Coe as a thoroughbred and printed badges carrying the slogan "Coe Must Go". At one point the story was the lead item on the 10 o'clock news.
"There was a real controversy - I remember Wogan wanted me on the show," Elliott recalls. "The problem was that people just misunderstood the situation, they didn't really appreciate the selection policy and just wanted to vent their anger, but unfortunately it was vented at me.
"It all started after the Olympic trials in Birmingham, when unfortunately Seb was ill and didn't make the final. I won the race, and I'd done the qualifying, so as far as I was concerned I was number one on the start list.
"Of course, when the team came out the next day, me and Steve Crabb were first and second in the trials, so we were selected, while Steve Cram was pre-selected.
"The press got hold of this and somehow managed to switch it round. Suddenly I was the one keeping Seb out of defending his title, which really wasn't the case. I'd been asked to achieve a qualifying time, which I did, and win the Olympic trial, which I did. But I think it made better headlines than the focus being on Steve Cram."
For the tabloids, Elliott's selection fitted far too neatly into a juicy tale of revenge, with the latter getting his own back for being controversially left out of the 1500m squad for the 1984 Los Angeles Olympics despite having beaten Coe in a supposed "race off" at the UK trials.
Coe went on to land Olympic gold and, while the 21-year-old Elliott was picked for the 800m, he was unable to take his place in the semi-finals due to injury, with Coe going on to claim silver.
"It was disappointing, but hindsight is a wonderful thing and I've since realised that when I beat Seb at the trials, I had peaked, whereas Seb was building up for the Olympic Games," he says. "That was a lesson I learned and put to good use later on."
Elliott's determination to be in peak condition for a second crack at Olympic glory in Seoul in 1988 was almost undone by another untimely injury.
"When I was warming up for the 800m, all of a sudden I got a pain in my abdomen and I couldn't run," he says.
"I had to make a decision - do I sit and watch an Olympic final or do I do something? So I had an injection that killed the pain.
"I then had an injection before each race, so I was going into the 1500m final a little bit apprehensive about whether I'd fall apart or not."
Elliott didn't fall apart, but found himself boxed in with a lap to go as young Kenyan Peter Rono hit the front.
He wriggled through a gap to force himself into second, but neither he nor Cram could find the extra burst of pace to overtake Rono on the home straight. Elliott held on for silver and Cram was edged into fourth by East Germany's Jens-Peter Herold.
"I remember Rono taking the lead and thinking 'This is great, I've got a pacemaker here'," recalls Elliott. "Speaking to Crammie afterwards he thought exactly the same, but that little bit of a lead that Rono had, he maintained all the way to the line.
"My understanding is that Peter Rono only won one race before the Olympics, which was the trial, and I don't believe he won a race afterwards.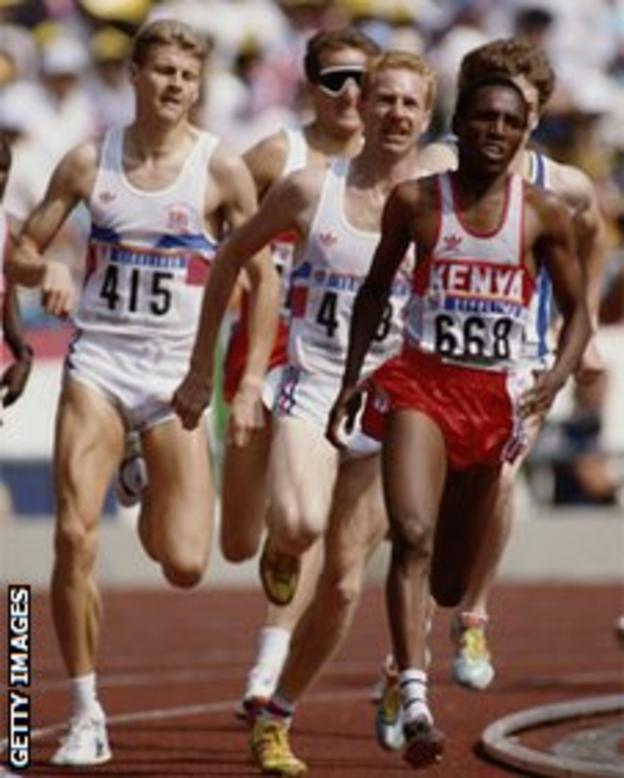 "But it's getting it right when it matters - going into a race and knowing who your competitors are, and we completely underestimated him."
Elliott continued to compete at the highest level for four more years, winning 1500m gold at the 1990 Commonwealth Games and the European Cup the following year.
He was on course to compete at the Barcelona Olympics, only to be cruelly denied when he tore his hamstring on his home track in Rotherham six weeks before the Games.
It was a sorry end to an eventful career featuring enough success, bad luck and controversy to fill a six-part drama series.
But when Elliott looks back on his Olympic medal-winning moment, it is clear that disappointment rather than pride is his over-riding emotion.
"It's great to say you're an Olympic silver medallist, but we had a tradition in this country of winning the Olympic 1500m and I kind of let down Britain," says Elliott.
"I'm proud to say that I'm an Olympian, as many will be this summer, and I'm proud to say that I have an Olympic silver medal, but when you do your first interview with TV when you're a 14-year-old kid and you say your ambition is to be an Olympic champion, then a silver is not quite good enough."