London 2012: Secrets behind South Korea's archery success
By Matt Monaghan
BBC Sport
Last updated on .From the section Olympics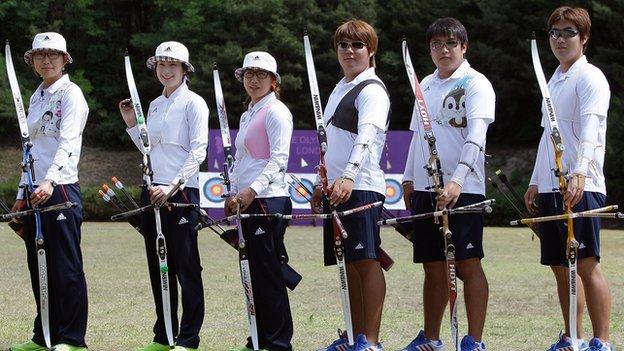 Brazil's footballers, the New Zealand All Blacks, Ferrari's Formula 1 team - all names that have stood for great success in their sports over the years.
If archery enjoyed a global following, South Korea would be up there with them.
Since Seo Hyang-Soon became the first Korean archer to reach the top of an Olympic podium at the 1984 Games, a further 15 gold medals have followed in the individual and team events.
The women have won all six Olympic team event titles since its introduction at the 1988 Games in Seoul, with the men winning four out of six.
And while the men are yet to win a singles gold, Chinese archer Zhang Juanjuan's victory at the Beijing Games in 2008 was the first from a non-Korean woman since the Soviet Union's Keto Losaberidze in Moscow in 1980.
Tournament after tournament, athletes from all over the world seem trapped in a battle to finish behind their Korean opponents.
"It is their national sport, it is like us in England with our football," Larry Godfrey, who will compete for Great Britain at London 2012, told BBC Sport.
"Myself and Simon Terry are the only British archers to have ever shot over 1350 points in a round, but in Korea I'd say there are at least 50 archers who could shoot that at the moment.
"The current world champion [Kim Woo-Jin] did not make the Olympic team, that says it all.
"Do not get me wrong, we have great facilities and fantastic support from UK Sport and the National Lottery, which has put us in a much better position than we were 10 years ago, but compared to the South Koreans it is not even on the same playing field."
Koreans are introduced to archery at primary school, with talented children receiving up to two hours training a day.
The less able are then weeded out at middle school, high school and university level until the very best are hired as adults by the company teams run by organisations such as car manufacturer Hyundai.
Approximately 30% of the Korean Archery Association's (KAA) budget comes from the country's Olympic Committee, but the main financial strength of the system is from these 33 company teams who provide a wage and a pension to archers employed solely to compete for them.
While British archers must meet strict performance criteria to be given funding, the vast majority of professional Korean archers will continue to receive payment without getting anywhere near the national team.
This set-up ensures that, while nearly every other nation competing at London 2012 can count the number of elite archers on one hand, Korea's total currently stands at 147.
The scale of the investment saw Korea build an exact replica of the 5,000-seater Olympic Green Archery Field - the venue used in Beijing - for their archers to train on more than a year in advance of the competition's start.
Nowadays, though, it is not just the Koreans who spend extravagantly on the sport.
American Brady Ellison's rise up the rankings has been partly aided by a sports equipment company, whose latest initiative saw an agreement reached in June with the United States Olympic Committee to build a $14m, 40,000 square foot, state-of-the-art archery field house at the US Olympic Training Centre in Chula Vista.
In India, athletes have been offered a US$1m bonus for an Olympic gold.
Korea's advantage has consequently been reduced and at the 2011 World Championships in Turin, Italy, the previously invincible women finished well adrift of singles gold medallist Denisse Van Lamoen from Chile and third behind Italy and India in the team event.
Despite these setbacks, the innovative coaching on offer at the Taeneung Training Centre continues to make Korea the nation to beat.
From 1981 to 1997, Kisik Lee was the head coach of the Korean archery team, and during that time he established a number of the principles that have provided the foundation to their continued success.
"In every sport, it is important that training techniques keep changing all the time and you approach the sport in a different way," he told BBC Sport.
"I began working closely with the Sports Science Department in 1983 and we studied very hard to make our archers' technique as efficient as possible.
"It was also important to emphasise that mental preparation was just as important for success, and I tried to create a concept of thinking which would help our archers shoot arrows in an extremely efficient way."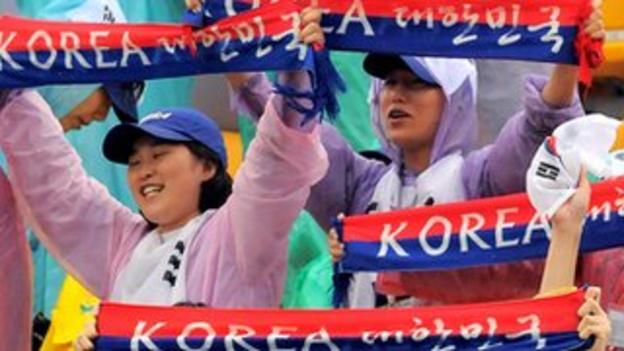 Current director of the Korea Archery Association, Seo Geo Won, told the Wall Street Journal last year that bungee-jumping, platform diving and training sessions held in crowded baseball stadiums have all been used to ensure the Korean athletes remain calm in competitions.
Archers also use visualisation techniques, such as shooting rounds with an unloaded bow and scoring themselves on how they feel they would have done. They will then shoot and score a round with arrows, with the tallies for the two often being just a few points apart.
No-one exemplifies the benefits of this unique programme more than World Archery's Athlete of the Century, Kim Soo Nyung, who won four Olympic and four World Championships gold medals during her career.
She told BBC Sport: "We had strong Olympic values which encouraged our training every day.
"The archers are prepared and conditioned mentally for a high level of competition. I think Korean archers concentrate even more nowadays and the training quality is better than the standard.
"I had three Olympic experiences, with my best memory coming in 1988. I was so young but I felt proud of myself when I won the gold medal in the individual class."