London 2012: Selectors' pick suits Great Britain - Cram

By Steve Cram
BBC athletics commentator
Last updated on .From the section Olympics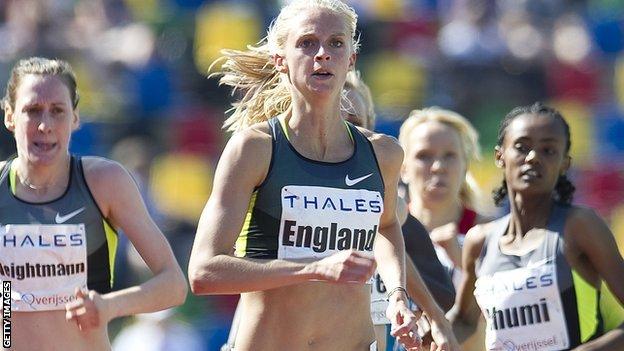 By this time next week we should have a clearer idea of which competitors from British athletics are going to the Olympics.
The Olympic trials are this weekend in Birmingham where the first two athletes in each event will qualify automatically, so long as they have the required Olympic 'A' standard.
The third spot is discretionary, meaning it's up to the UK Athletics panel who should make the team. I think it's right that a country of our size leaves that option open for selectors.
Hannah England, is a good example of someone who could benefit from this type of system. She got spiked by another athlete's running shoe at a competition in the Netherlands a few weeks back. She has already run a couple of races and has been in good form, reaching the 'A' standard multiple times.
England also picked up a silver medal at last year's World Championships so is a proven pedigree athlete - she just has a temporary injury which she is recovering from.
The point is, there's no pressure on Hannah to race and maybe put herself at risk. In the United States and Jamaica, the trials are the one and only chance to make the Olympic squad, which is a lot less flexible.
Thankfully, Hannah's got the option to run at a different time after the trials and that's only possible because we've got this discretionary third spot.
Even so, selection for that third spot could become complicated when you take into account Hannah's 1500m rival Lisa Dobriskey, whose good form goes back a little further to a couple of years ago.
It then becomes a choice between a few different people for that third spot, which makes it hard for the selectors. They've got to make sure they explain clearly why whoever gets the third spot has got it. I dare say there will be one or more slots that will be difficult to fill.
The 800m runner Jenny Meadows is another who may have to rely on discretionary selection. Two women have already run the 'A' standard this year - Emma Jackson and Marilyn Okoro, who have both been racing well. Jenny has run it too but that was last season, which gives Emma and Marilyn the advantage.
Then there's Jemma Simpson who's fast improving. At the Diamond League meets in Eugene and New York, she ran two minutes so is capable of getting the 'A' standard of one minute 59.90 seconds.
Jenny's just come back from training in Fort Romeu in the Pyrenees. She's been struggling all winter and much of spring with niggles and hasn't raced yet this season. It's a high-risk strategy but she's going to have to go to the trials and just see what she can do.
In previous years we've been critical of the trials because it's been quite obvious who was going to make the team. This year, apart from stand-out athletes like Mo Farah, Jessica Ennis and Phillips Idowu, there's less indication.
Even someone like Dai Greene, who is the 400m hurdles world champion and you couldn't imagine him not being picked for the Games, has still got to run well.
It's great that the overall standard in many events is so much better. It bodes well for the team.