London 2012: Jess Ennis prepares for final Olympic push
By Nick Hope
BBC Olympic sports reporter
Last updated on .From the section Olympics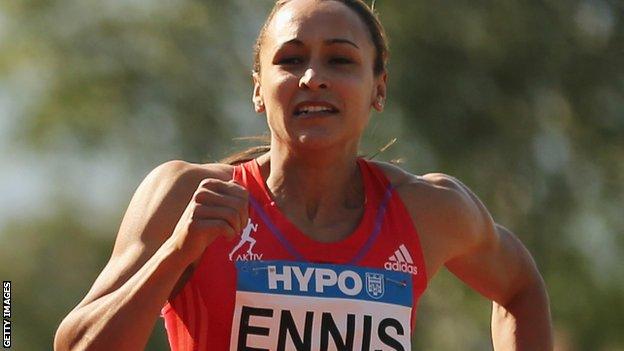 European Champion Jessica Ennis says she will need to extend her British record to win gold at London 2012.
"Everyone's training hard and is going to be at their peak in London where it matters," Ennis told BBC Sport.
"It was great to get the record so early in the season, but yes, I think it's going to take that big score to win [at the Olympics]."
She added: "I know that everyone else is competing well and some of the girls will go away and train even harder to make sure they are ready for London.
"It is by no means over and there's still a lot to come from me, but I'm looking forward to it."
Ennis will compete in four events, the 200m, long jump, high jump and 100m hurdles, at this weekend's Olympic trials in Birmingham in what will be her final competition before this summer's Games.
"I want to give myself a real test over two days, as I'll be in two heats and four finals on the weekend," she said.
"I'll be taking on specialists who will all be fighting for Olympic spots."
The 26-year-old insists it does not concern her that the 2012 trials are being held in Birmingham rather than the Olympic stadium in London.
"I don't mind to be honest," said the 2009 world champion.
"It was great to see the BUCS [British University and College Sports] there and the test event, but for me personally I don't want to become too familiar with the stadium.
"I want it to be new and fresh and filled with a massive crowd when I'm ready to compete.
"A packed Birmingham Alexander Stadium will be the closest I'll come to replicating that tough schedule and environment ahead of the Games."
Ennis lost her heptathlon world title to Russia's Tatyana Chernova in South Korea last year but she believes that if current form is anything to go by, with personal bests in both the javelin and 200m in Gotzis last month, silver at the Worlds might have been a blessing in disguise.
"At the time I was disappointed because I'd really wanted to win that gold medal, but I had to try and take positives from it," said Ennis.
"I think that it's been good to come away and focus on some of the weaker events which didn't quite go my way and then build on them.
"I believe that everything happens for a reason, and perhaps it was an opportunity for me to work on those events and come back stronger this year."