London 2012: Perri Shakes-Drayton benefits from stadium visit
Last updated on .From the section Olympics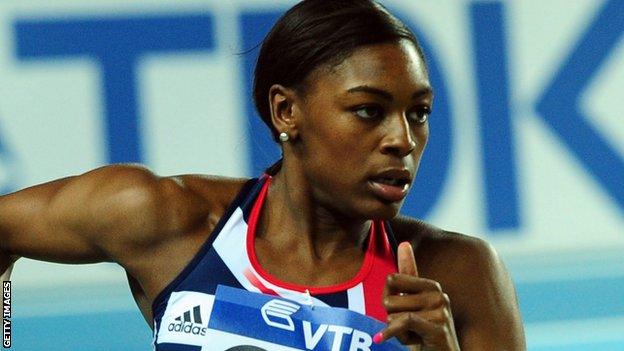 London runner Perri Shakes-Drayton believes a visit to the Olympic Stadium will help to put her at ease when the competition begins.
The 23-year-old 400m runner has had a training session in the stadium.
She told BBC London 94.9: "The home straight makes you want to run fast, perform and do well. It's a stage.
"I don't know if I'll have a chance to go again but it's good I don't have to imagine any more. That's why I took up the opportunity."
She continued: "I know a lot of athletes won't be going and will stay away but I don't have to wonder what it looks like, because I know.
"I did do a little visualisation but some athletes took out their phones and were even recording things."
If the European bronze medallist secures her place in Team GB at the British Trials in Birmingham this weekend, London will be her first Olympic Games.
Shakes-Drayton finished first in 400m hurdles trial for Beijing 2008, but was not selected for Team GB as she had not achieved the Olympic A standard.
Instead Tasha Danvers was selected for competition and went on to win a bronze medal.
"I was not upset one bit," Shakes-Drayton said.
"I was young and naive but there was no type of disappointment from me that I didn't go to the Olympics in Beijing.
"I wasn't in the race and just because I beat her at trials didn't mean I would have won silver."
However Shakes-Drayton, who trains in Mile End, got a taste of the Olympic atmosphere thanks to a trip to China organised by the British Olympic Association.
"Me, Asha Phillip and Hannah England went out there to get an experience of the Games.
"It was very beneficial because it gave us an insight into what to expect.
"It was like a different world. I know what kind of thing to expect when it comes to London."