London 2012: Janet Evans on comeback trail after 16 years
By Jessica Creighton
Olympic sports reporter
Last updated on .From the section Olympics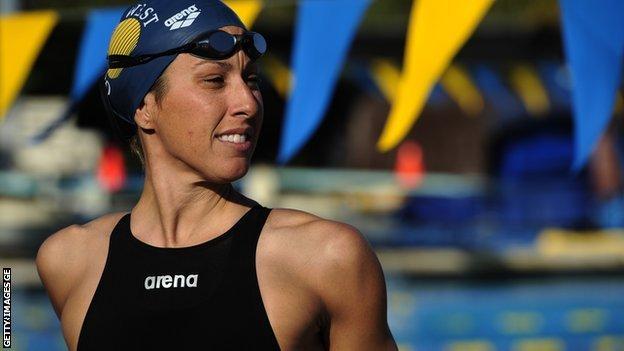 For two years, American swimmer Janet Evans has been focused on achieving the most improbable feat.
Twenty four years after winning three gold medals at the 1988 Seoul Olympics as a teenager, and 16 years after retiring, the 40-year-old mother of two is in the midst of a comeback.
With the US Olympic trials under way in Nebraska, Evans has again donned her swimsuit and set her sights on London 2012.
Even her coach, Mark Schubert, describes her ambitions of competing at a fourth Games as "a long shot".
Evans needs to finish in the top two of her events - the 400m and 800m freestyle - in Nebraska to secure a place in London, but that is not what is driving the four-time Olympic gold medallist.
"For me it's already been a success," she told BBC Sport. "There was never going to be a huge amount of disappointment; I've won my gold medals, I've broken my world records, so I've done my thing.
"To swim in the eight minute 40 seconds - when at the beginning of my career I was swimming in the eight minute 30 seconds (for the 800m freestyle) - I'm surprised my body has been able to do it. I could quit this morning, never swim another stroke and be very satisfied with the last two years of my life."
It is 08:45 in Los Angeles. While many people's days are just beginning, Evans has already been up for over four hours and finished her morning training schedule - a gruelling two-and-a-half-hour swim and 30-minute weights session.
As tough as it might be, waking up at 04:30 every morning is self-inflicted. It allows Evans to train and return home early enough to spend the day with her children before her afternoon session.
"I feel blessed because I'm a working mother but I get to be home with my children the majority of the day. I feel like I get the best of both worlds. Doing things to keep myself happy and content outside of my family, I think it makes me a better mum," she explained.
"I feel like as a mum you put so much on the back burner and every once in a while you think 'I'd love to do that'. For me, it was a question of missing the sport and wanting to swim again, having no huge expectations, seeing how fast I could go and how far I could push my body at the age of 40."
Evans insists there was no defining 'lightbulb' moment when she decided to stage the unlikeliest of comebacks.
She had kept herself in shape after giving birth and was still in regular contact with coach Schubert from her previous Olympic medal haul. From there, a plan began to take shape in the summer of 2010.
"I was approaching my 39th birthday," Evans said. "I was at the beach with my family and my coach texted me some of the results from the national championships. I said 'Wow, they're swimming about 8:25.00' and my coach said let's see if you can do that.
"When I started I couldn't swim 100m. I was in good shape but not swimming shape, so we basically started from scratch."
As daunting a task as it might seem, with Evans languishing at the slower end of trials qualifying in 51st, the three-time Olympian still speaks with infectious enthusiasm about competing again, free from expectation.
"Because I love it, I don't put pressure on myself. I broke my last world record at 17 and swam until I was 24, so I didn't do a best time in swimming for seven years - that's pressure, having to step off the blocks for seven years and wondering why your body can't do what it used to do.
"This time around it's been really fun for me to challenge myself and feel myself improving. Improvement of an athlete is very motivating. I'm more motivated than I was because it's fun to see what my body can do."
Successfully negotiating the trials, while an achievement in itself, would set Evans up for an even bigger test in London - a meeting with Britain's reigning Olympic 800m freestyle champion Rebecca Adlington, who broke her 19-year-old record back at the 2008 Games.
"I think it takes a lot of courage," Evans says of the challenge she has set herself.
"To put yourself out there and step out in the public eye again and put yourself up for criticism. There will always be people who think it's nuts that I'm swimming again. But it's a personal journey for me and one that has been very positive."