London 2012: Hockey star Anne Panter walks away from car crash
By Ollie Williams
BBC Olympic sports reporter
Last updated on .From the section Olympics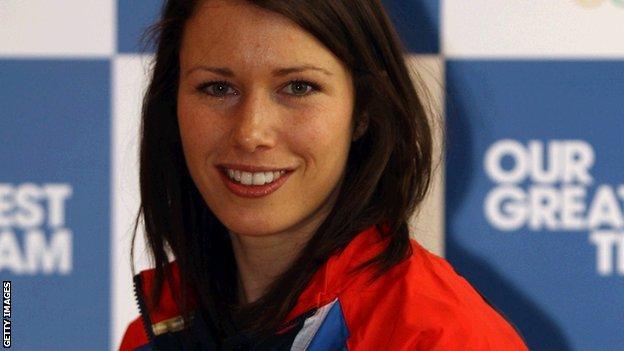 A top British hockey player has walked away from a serious car crash just one month from her home Olympic Games.
Anne Panter, 28, flipped her car after a tyre blew on Berkshire's A404 while driving home from training last week.
She revealed to BBC Sport: "I went off the road into the trees, hit the trees and flipped two or three times before landing back out on the inside lane.
"I was fine. I was fairly shaken up, but I had no injuries. Lucky doesn't even describe it, really."
This is the second major car accident involving the Northamptonshire star, who has been picked to play in her second Olympic Games this summer.
The first, in 2003, kept her out of the sport for two years and set in motion a train of events which saw her career blighted by injury for eight years.
"Back in 2003 I had a serious car accident on the M4, an eight-car pile-up," recalled Panter.
"I went into the back of the car in front and then a car came into the back of me, which pushed me under the car in front, so its wheels were on my roof. I was really lucky but I badly injured my ankle and was out for about 18 months.
"After that, in training, someone hooked their stick around my ankle. I ruptured a ligament and that was the onset of a lot of ongoing knee injuries until the beginning of 2011, when I started playing again."
Danny Kerry, the British women's coach, told BBC Sport: "The blood runs cold most training sessions between now and the Games - your heart's in your mouth hoping nobody takes a nasty collision or gets hit with a stick or a ball.
"[But] you forget there's a life they have outside hockey that involves cars. Fortunately Anne's come out unscathed from this one.
"First, you're genuinely scared for the athlete and hoping they're OK. Then you move on to 'can they play hockey?' rather than just 'are they OK?'.
"Then you start to think: 'That's twice that's happened to Anne. Maybe we have to look at her driving a bit.' You move to humour but I haven't got that far yet with Anne, I think it might not go down too well."
Panter says she suffered mild whiplash in the wake of her latest accident, which closed the A404 for a time last Wednesday, but was otherwise unharmed.
"It all feels surreal now," she said. "The police cordoned off the road and all I was concerned about was trying to find my phone - but everything from my car was everywhere on the road. We found it on the other side of the carriageway, smashed.
"One of the boys, Richard Mantell, was driving along the road back from training and ended up taking me back home.
"I haven't slept that well since. But I was back driving on Sunday - I thought it was best to get straight back on it."