London 2012: Dan Keatings ready for British Championships
Last updated on .From the section Olympics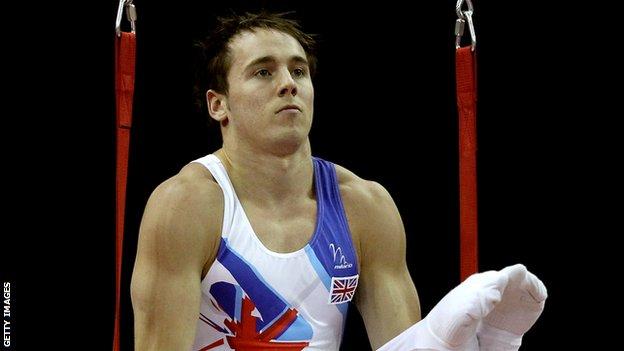 Dan Keatings is ready to prove his fitness and form to Olympic selectors at this weekend's British Artistic Gymnastics Championships.
The competition at the Echo Arena Liverpool will be the 22-year-old's last opportunity to show he is worthy of a Team GB place.
"You have to prove how fit you are and that you're at the top of your game," he told BBC Look East.
"There is going to be quite a fight this weekend."
Five men will be selected to represent Britain in London this summer, with Keatings's Huntingdon Gym team-mate Louis Smith almost certain of a call-up.
An ankle injury has disrupted Kettering-born Keating's preparations, but he returned to form last week taking silver on the pommel horse in an international event in Ghent.
"I'm a little bit nervous because it's the final selection. But since I came second last week I've had a massive confidence boost," the former world all-round silver medallist said.
"If your training's not going well you're going to be nervous and it will affect you in a competition.
"The consistency in my routines is nearly 100%. I really am feeling confident going into this weekend."
Fellow Huntingdon Gym athlete Luke Folwell, who won five medals in the 2010 Commonwealth Games, is unlikely to make a late charge for Team GB following a troublesome shoulder injury.
But the British Championships could help the 25-year-old decide on his future.
"It's been quite a difficult time since the Commonwealth Games," he said.
"But I'm feeling really good. It's the best I've felt for a few years. The shoulder is not fully recovered. I've still got some bruising on one of the bones in my shoulder.
"Unfortunately it's come at the wrong time for me with the Games just around the corner. I've done all I can to help motivate the guys and help gee them up.
"At the moment I'm concentrating on the National Championships. We'll see where I stand at the end of the summer.
"I think I'm going to have a little bit of time off to try and let the bruising recover. If it recovers fully we'll see where things go from there. If it doesn't maybe it's time to look elsewhere."