NBA centre Byron Mullens drops out of GB men's squad
By Chris Mitchell
BBC World Service
Last updated on .From the section Olympics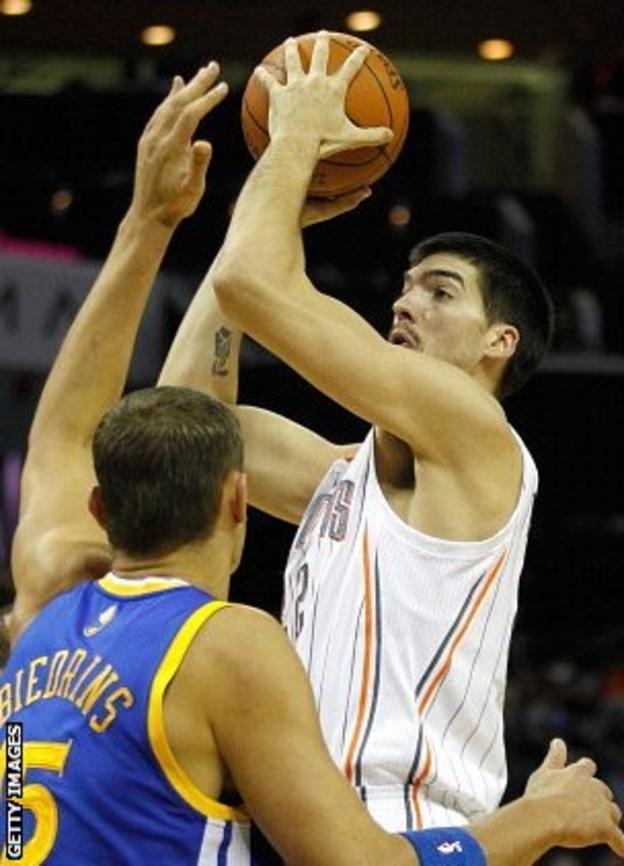 Byron Mullens has been released from the GB men's squad after officials said a foot injury prevented him attending the team's training camp in Houston.
But GB officials confirmed he would not play this summer due to an injured toe.
The team is also waiting to see if another NBA player, Ben Gordon of the Detroit Pistons, will join the squad.
Mullens' departure from the squad means that Nate Reinking, 38, the American-born guard who has been with the GB programme since 2006, is the sole candidate for the team's single naturalised player spot.
"It is disappointing but we have a very strong squad in camp with us in Houston at the moment," said GB head coach Chris Finch
"Everyone here is focussed on the task at hand and we now turn our attention to our first warm-up games of the summer this week."
GB face their first test of the summer on Friday night in Houston with a game against Nigeria and also play Russia and Lithuania twice each during their stay in Texas.
Gordon, whose long-awaited debut was expected this year, has yet to join the other players at camp. The BBC understands GB Basketball are in daily contact with him as he decides whether to commit to the programme.
Gordon has been on GB's squad lists since 2008 without having played a game due to injury and family and other commitments.
He is seen by many as the missing link for the GB side because he plays at guard, a position where Britain are relatively weak.
British Basketball Performance director Chris Spice explained earlier this week that Gordon was ''continuing his training in Detroit''.
The news comes after Nick George suffered a thigh strain in the first practice session earlier in the week. He has been replaced by Mersey Tigers player Myles Hesson.