London 2012: Taylor & Stalker to resist pro call after Games
By Saj Chowdhury
BBC Sport
Last updated on .From the section Olympics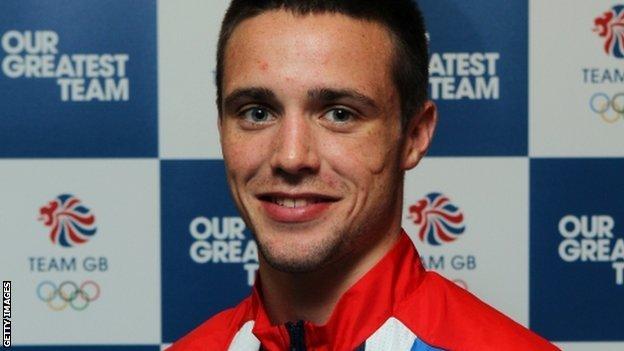 Team GB boxers Josh Taylor and Tom Stalker will resist the temptation to turn professional straight after the Olympic Games this summer.
Edinburgh lightweight Taylor, 21, wants to compete for Scotland at the 2014 Commonwealth Games in Glasgow.
"I've got no intentions to go pro," said Taylor. "I want to go to the home Commonwealths. I love the game I'm in.
"I want to stay amateur, go and see more of the world, and I also don't have to put my hand in my pocket."
The Prestonpans fighter will be hoping to go one better at Glasgow 2014, having been defeated by England's Stalker in the lightweight final in Delhi two years ago.
GB captain Stalker, 27, has since moved up to light welterweight and won bronze at the World Amateur Championships in 2011.
The Liverpudlian also said he was content to stay amateur and revealed how he planned to keep his feet on the ground after the Olympics.
"Some of my mates are professionals, so I go to a lot of professional boxing shows, but I'm happy to stay amateur," the 28-year-old told BBC Sport.
"If we win medals, myself and Anthony Joshua (super heavyweight) want to go to a country that's really poor.
"It'll be crazy after the Games with a lot of people praising you, so we want to get away to such a country in order to appreciate life more."
The biggest ever British Olympic boxing team, which includes female fighters for the first time, is expected to win several medals at London 2012.
The 10-strong squad includes one world champion, three European champions and four world finalists. Seven are ranked in the top four in the world in their weight class.
However, skipper Stalker believes there will me no 'gimmes' at the Games.
"We've got great fighters in every category," he continued. "But there are so many good fighters in the world, it would silly to stand here and say, 'We're going to do this and that.'
"You will need a lot of luck to win medals."