Jazz Carlin will bounce back from London 2012 heartache
Last updated on .From the section Olympics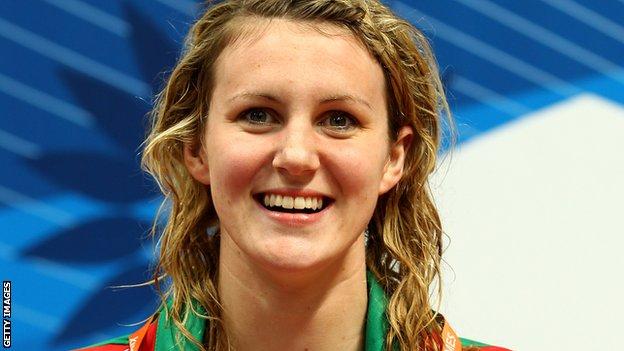 Swimmer Jazz Carlin has vowed to bounce back from the disappointment of missing out on a place at London 2012.
Carlin, a silver medallist at the 2010 Commonwealth Games, then missed out on a place in the 200m earlier this week.
"It's not a nice feeling but I've got to pick myself up, that's what makes sport tough," she told BBC Wiltshire.
"You've got to get back up, pick yourself up and come back fighting."
Carlin needed a time of one minute 58.33 seconds in Tuesday's final at the National Championships in Sheffield to qualify for London 2012.
But the Swindon-born, Swansea-based swimmer finished fourth in 2:00.01, a time that also meant she missed a place in the 4x200m squad.
"There's other Olympics, World Championships and Commonwealth Games so I've got to set my goals for the next four years and hope I can improve," she added.
"I'm absolutely devastated I'm not going to be a part of it this year - and especially as it's something I've been dreaming about for years now.
"I'm definitely looking forward to getting back into training hard but it's going to be difficult watching the Olympics and all of my friends, and the swimmers, but I'm going to be 100 per cent behind them."