Why Mauritius' beach volleyball team doesn't use its beaches
By Yasine Mohabuth
BBC Sport, Mauritius
Last updated on .From the section Olympics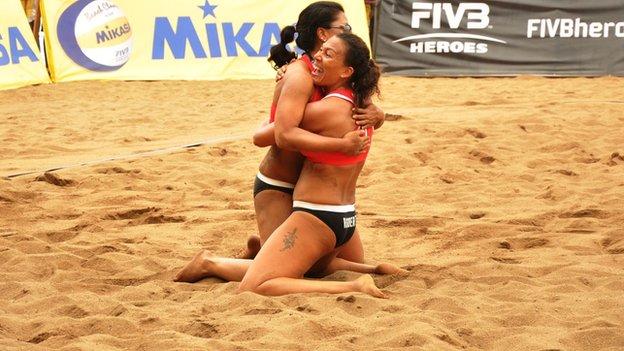 Mauritius is world-famous for its beaches so it is perhaps unsurprising that they have a beach volleyball team heading for the Olympic Games.
But the irony is that the London-bound women's beach volleyball team has spent very little time on the pristine white sand in their home country.
That is because the standard of local players is poor, reflecting the inadequate facilities for the sport on Mauritius' white strips of sand.
Instead, Natacha Rigobert lives in France while her playing partner Elodie Li Yuk Lo is in Canada.
The two were put in touch with each other through a mutual friend, volleyballer Marjorie Nadal, who explains how the duo's historic Olympic dream was realised.
"Elodie asked me to come to Canada to team up with her as a Mauritius beach volley team for one season, but this was impossible for me because of my children," Nadal told the BBC.
"At the same time, Natacha was in Mauritius on holidays and we used to play every Sunday on Flic en Flac Beach. I told her about Elodie's proposal, she took her email address and from this day they are together.
"I am so proud to have participated a little in making their dreams a reality. What they have achieved with loads of sacrifice, determination and faith is enormous."
After their initial emails and phone calls, Rigobert and Lo finally met in France in 2008 - and they played their first competitive game in Norway soon after.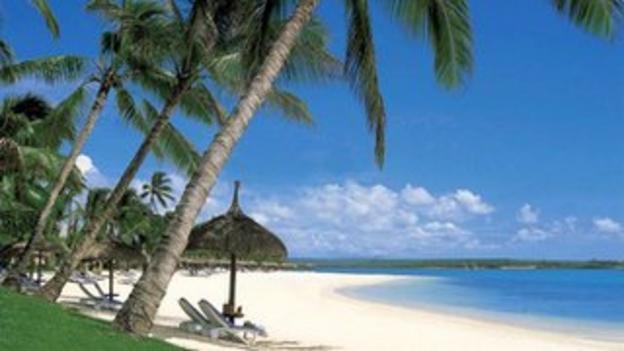 The duo clinched their place at the Olympics with a golden set win over Kenya in the final of the Women's Continental Cup in Rwanda in May.
The victory means that the pair will create history when they become the first team from Mauritius to participate at the Olympic Games.
When not practising the sport, Lo teaches biology and physical education in a secondary school in Toronto where she emigrated with her parents.
Her volleyball career began at the University of Toronto, where she won several trophies.
Rigobert, meanwhile, lives in Cannes and has excelled at indoor volleyball too, having played in the Pro-Ligue in France with Racing Club de Villebon 91 and at the World Junior Club Volleyball Championships in Poland in 1997.
After their qualification, the team were given a VIP welcome on their return from Rwanda.
"It's a great feeling, a dream comes true for both of us," a tearful Rigobert told BBC Sport.
"After four years of sacrifices, we are proud that we've done it for Mauritius. We will go to London to get a good result and just as a team to make up the numbers.
"Now we want to be creative and develop different styles of play depending on our opponents. We are prepared to take on any team - we have played Russia and China lately and did quite well.
"Sure we are going to enjoy every single moment in London and appreciate the venue."
Rigobert will have the added honour of carrying her nation's flag at the opening ceremony after being chosen by the Mauritius National Olympic Committee.
"I'm really pleased and honoured to carry my country's flag at this prestigious event," she said.
"This is another first for me because I [will] become the first woman to be the flag bearer for Mauritius at an Olympic Games - today, I feel even more proud to be Mauritian."