London 2012: Usain Bolt, Team GB and Olympic demands
Last updated on .From the section Olympics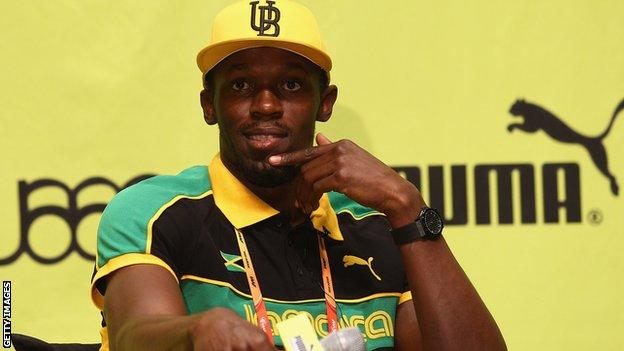 An upbeat Greater London Authority is advising local businesses to gear themselves up for a "summer of opportunity" around London 2012.
They could do worse than point to an unassuming office in Teddington as an example of what they are getting at.
There, manager Ricky Simms is juggling the affairs of Usain Bolt, the most marketable sportsman on the planet, ahead of the biggest event of his career.
As you might imagine, he is a busy man.
"At the moment Usain gets about 10 interview requests a day from all over the world," he told BBC Sport.
"It would be great if we had 10 Usains, but he is just not going to be able to speak with all these people."
But it is not just the media who want a piece of Olympic 100m champion and world record holder Bolt.
Simms is the gatekeeper with whom big business must negotiate if they want their products to benefit from the Jamaican's phenomenal performances and winning personality.
Bolt's earnings from image rights and endorsements are reported to be in excess of £8m a year.
It does not take a marketing degree to realise that London 2012 is the time for his commercial partners to make a return on their investment.
The extra publicity that accompanies a home Games means there is also an added bounty on the heads of Team GB medal prospects as well.
Mo Farah, Christine Ohuruogu and Phillips Idowu - precisely the sort of names that will have been tossed about as potential corporate campaign figureheads - are all part of Simms's roster.
"In terms of performance it is the same, everyone is trying to win gold, but the off-the-track opportunities are better for some people," he explains.
"Usain is the most marketable sportsperson in the world so, of course, he is in prime position.
"Our strategy with him was to secure him with a small number of high-value sponsors and most of those are long-term deals that he has had for some time.
"But London 2012 will also open up a lot of opportunities for British athletes.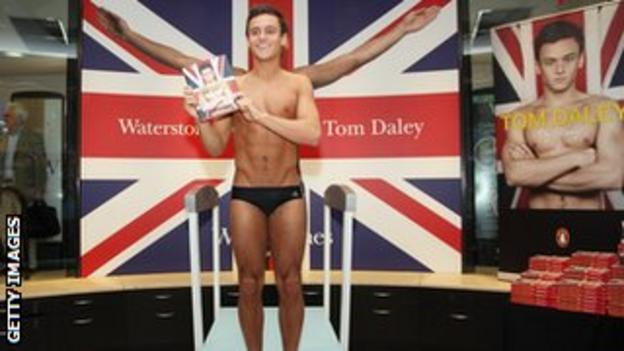 "Certainly you see a lot more British athletes in commercials and endorsing companies than you would have done four or eight years ago."
It may be, though, that a run of form that peaks perfectly for the Games might be less well timed for an athlete's bank balance.
"Athletes who have done well in 2011 may have missed out a little bit," explains Simms.
"Companies were contracting in 2009 and 2010 with their campaigns planned out 18 months in advance.
"Phillips won the World Championships in 2009 and, along with Jess Ennis, that meant they were perfectly positioned to capitalise heading into 2010 and 2011. But Christine Ohuruogu had injuries in 2010 - her big years were 2006, 2007 and 2008."
If athletes are too keen to exploit commercial opportunities, though, they can endanger the very success their bankability is built on.
In May, British diver Tom Daley donned his trunks and posed on the end of the board. But this wasn't training, it was the launch of his autobiography in a central London bookshop.
The 18-year-old's myriad of commitments have been questioned by Team GB diving coach Alexei Evangulov who feared they may damage his chances of a medal.
All of Simms's clients, even Bolt, have finished their pre-Games public relations business, with any new adverts and campaigns that emerge in the run-up to the Games filmed and finished well before.
"I think that time is over now. The next two months are about preparation and anyone who is out doing PR stuff is taking a very big risk," he adds.
But Simms admits that as a track and field specialist, his job is easier than for those for whom publicity is scarce outside the Olympic fortnight.
"Athletics retains the media profile in between Olympic Games, through events such as the two World Championships that we have had since Beijing. I think other Olympic sports are much harder to market.
"The track cyclists who were so big in 2008 have almost disappeared since in the general view when you compare them to tennis, football and golf.
"Michael Phelps was one of the stars of the Beijing Olympics, but if you ask the man in the street what he has done since then, he would struggle to tell you.
"Whereas the likes of Usain Bolt has been out there winning gold medals and breaking world records in that time."
The stats would seem to support Simms's theory.
If Twitter is today's barometer of public buzz, then Bolt has surpassed David Beckham, that traditional benchmark of sporting celebrity, as the global face of the Games.
According to market research agency Nielsen, Bolt is the subject of 0.62% of global online Olympics discussions, with local boy Beckham trailing behind on 0.52%.
That percentage, along with Simms's intray in Teddington, will grow considerably if Bolt repeats the pyrotechnics of Beijing in August.