Venue profile for London 2012: Lee Valley White Water Centre
Last updated on .From the section Olympics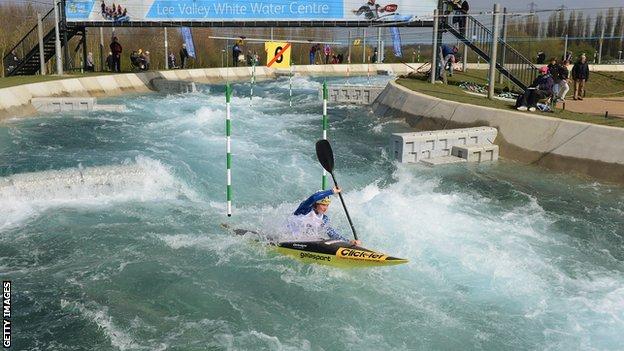 The £31 million Lee Valley White Water Centre was the first brand new Olympic venue to be completed.
It was opened by the Princess Royal in December 2010 having been delivered on time and within budget.
The Hertfordshire venue is 30km north of the Olympic Park and built upstream on the River Lee, which runs through the Olympic Park.
It is operated by the Lee Valley Regional Park Authority and offers the public rafting and canoeing facilities, on both the main 300m Olympic course and a separate 160m intermediate run.
Team GB Performance Director John Anderson calls it "the best canoe slalom white water facility in the world", but triple-Olympic champion Peter Hochschorner of Slovakia believes it could be more challenging.
"The design could have been a bit more interesting - athletes can't show off all their skills," he says.
With two big drops called 'Ben Nevis' and 'Big Ben' the course is more than a challenge for most.
Legacy
Last year the Lee Valley White Water Centre was awarded the 2015 World Championships, the first major event awarded to a London 2012 venue after the Games.