Aaron Cook's latest Olympic appeal rejected by BOA
Last updated on .From the section Olympics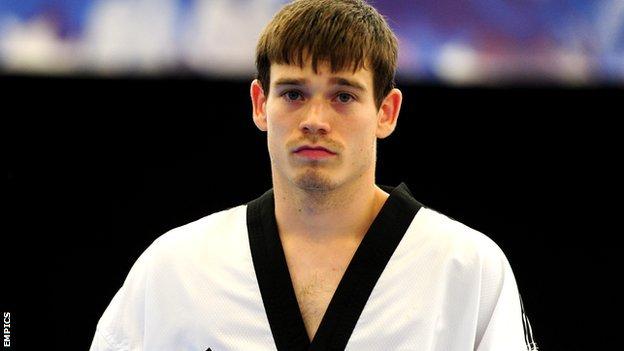 Aaron Cook's bid to force GB Taekwondo to pick him for the London 2012 Olympics has suffered a new blow.
The British Olympic Association (BOA) will not meet with Cook's legal team to discuss the world number one's omission at the Court of Arbitration for Sport.
The BOA is acting in accordance with the Olympic charter which states CAS can only be used by athletes nominated for an Olympic Games.
Lutalo Muhammad was picked instead of Cook in the -80kg class.
In a second setback the BOA decided that the "new evidence" submitted by Cook's legal team last week did not provide a sufficient basis for it to recommend GB Taekwondo re-open its selection process.
The evidence Cook intended to use includes an article published on leading taekwondo website Mastaekwondo.com in February of this year.
The website alleges one of their staff overheard GB officials discussing their anger about Cook's decision to leave the set-up at a camp in Spain in August and that they were already looking for other athletes to fill the -80kg Team GB berth in London.
However, GB Taekwondo denies its -80kg Olympic selection was pre-determined.
Jamie Cunningham, chief executive officer of the Professional Sports Group which represents Cook, issued a statement on Sunday which said: "Aaron and his team strongly disagree with the BOA's position.
"They need to give Aaron Cook a chance to prove his case before CAS."
He added: "It is the perfect and correct court to hear this case."
Cook's team are still hopeful that the BOA will revise its decision and agree to meet them at CAS ahead of the Team GB deadline for Olympic athlete ratification on 6 July.
Should the BOA not change its position, if Cook wishes to continue challenging the decision to overlook him for London Olympic selection he will have to take the case to the High Court.
The World Taekwondo Federation is also conducting its own investigation into the GB Taekwondo selection procedure.
And it could lobby the BOA to revise its ratification of Muhammad if it decides GB Taekwondo has brought the sport into disrepute.