Daniel Purvis and Rebecca Tunney win British all-around titles
Last updated on .From the section Olympics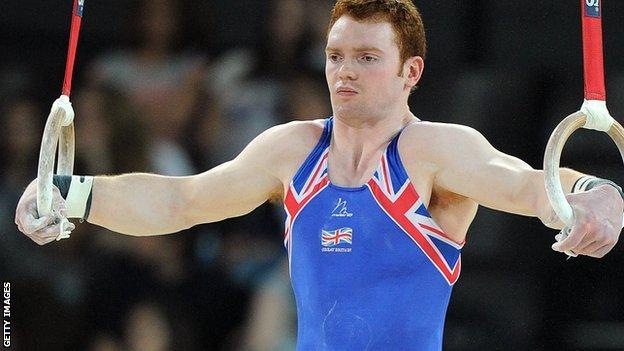 Daniel Purvis retained his men's senior title at the British Artistic Gymnastics Championships as 15-year-old Rebecca Tunney took the women's crown in her first year as a senior.
Purvis, 21, recorded a score of 91.550 at the Liverpool Docklands Arena to win for the third successive year.
Tunney sealed the women's title with 56.750 points.
Purvis said: "It's brilliant to win the title again. With it being the final Olympic trial it's even more special."
He added: "My routines were all clean so it's really encouraging looking ahead to the team selection.
"For me now it's all about waiting for that phone call and just hoping I'm confirmed for the team."
City of Liverpool gymnast Tunney is also hoping to have done enough to convince the selectors she should make the Team GB squad for the Olympics, which will be announced on 4 July.
She said: "The main focus with it being the Olympic trial was to stay clean and I thought if I did that I could get maybe in the top five but to win is incredible. It's totally unexpected.
"The trials have all gone really well for me so it's now just up to the selectors to decide what works best for the Olympics. The first year as a senior couldn't have gone better really."
Sam Oldham secured second place behind Southport-born Purvis with a score of 90.050, while Daniel Keatings finished third on 90.700.
Beijing pommel horse bronze medallist Louis Smith produced an outstanding display to record a score of 16.200 in that discipline.
Jennifer Pinches took the silver in the women's section with Hannah Whelan also making the podium despite a fall on beam.
Beth Tweddle was the top-scorer on bars (15.750) and on floor (14.650), in which she competed for the first time since her recent injury.