London 2012: Antony James joy at Olympic selection
Last updated on .From the section Olympics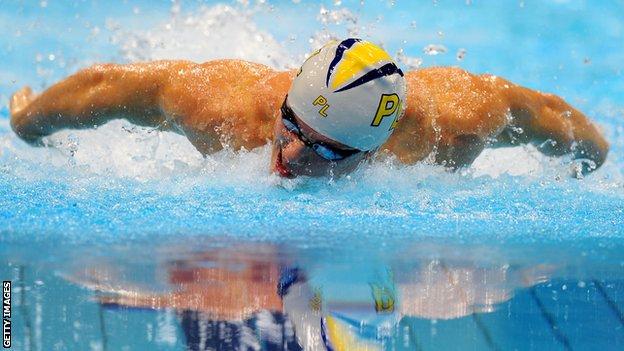 Plymouth swimmer Antony James says selection for this summer's Olympics has still not sunk in.
But at a meeting after the event.
"It still hasn't sunk in, it's all a bit surreal at the moment," James told BBC Radio Devon.
"It's like living in a dream world, but in a few weeks' time I'll realise I'm racing at the Olympics.
"It's been such a rollercoaster year for me, failing at the first trials, then coming back and training again, at least it's good that I've ended on a high."
James will now have three weeks of intense training before the final Great Britain training camp in Edinburgh as he prepares for the Olympics.
The Plymouth Leander swimmer says he hopes his inclusion at London 2012 will inspire young people from the city to take up the sport.
"Training at the new Life Centre at Plymouth has given us such a boost," he added.
"We've got such a good group of us now training together and it all helps to elevate everyone's performance.
"As long as anything I do in the pool can help sport in the South West and Plymouth, raise the profile of sport and get more kids involved, I'll see it as a job well done."