London 2012: Fabian Cancellara out for Olympic gold not Tour glory

Last updated on .From the section Olympics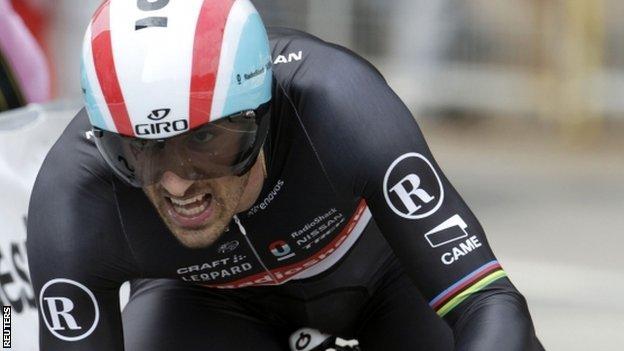 In every interview that Fabian Cancellara has given this year, the four-time world time trial champion and Beijing gold medallist has outlined how his priority for 2012 is more success at the Olympics.
But ask him what is the most important thing in his life and you get a very different answer.
"My family, always," the 31-year-old cyclist told BBC Sport. "As an athlete at a high level, they are my base. That is the real world."
That base is about to get bigger. However Cancellara fares at the London Games, the upcoming Tour de France or September's World Championships, this will be a special year for him. The imminent birth of his second child this summer will guarantee that.
But the Swiss superstar, who is so fast he has been accused of hiding an engine on his bike, wants at least one Olympic gold too - and badly. That has meant making lots of sacrifices, especially in the last few months.
Cancellara is looking to defend the time trial title he won at Beijing in 2008 and is also hoping to improve on the silver he took in the road race at the same Olympics.
If he is going to do the double, it will be the hard way.
Complications from breaking his collarbone in four places in a crash in the Tour of Flanders at the beginning of April sidelined him for two months, ruining his spring season and meaning he finds himself in the rare - for him at least - position of playing catch-up.
As you might expect from a man known as "Spartacus" for his combative style as much as his gladiatorial looks and powerful build, Cancellara is up for the fight.
But as Britain's Mark Cavendish, one of his rivals for the Olympic road race crown, is no doubt finding out, the demands of being an elite athlete eyeing a glittering prize do not always fit in with the realities of being a dad.
In Cavendish's case, three-month-old daughter Delilah will be occupying many of his thoughts. For Cancellara, he has had to sacrifice time with his five-year-old daughter Juliana and pregnant wife Stefanie.
"I think I have two sides," Cancellara explained when I asked him about the aspects of his life on and off a bike. "My family-man side and my competitive-man side. Sometimes there is not room for both.
"I try to find a balance. It is not easy to handle but I try to involve my family when I am going round the world. When I have team training camps it is different but when I am alone or at races I can take them with me.
"They are not perfect for every time, but I am doing a job and, just like everyone who goes home from jobs as a bank manager or in a factory, I go home and I have my family.
"Cycling is definitely not everything in my life. I love what I do and I have a passion for it but I have a good family environment too."
The competitor in Cancellara is never far away, though. His injury and subsequent battle for fitness has intensified his focus, which is on London above every other race.
In answer to a question about how proud he is of his nickname, he speaks with obvious determination about how he plans to live up to it in the next few weeks.
"I am not always like a fighter," Cancellara said, after a lengthy pause for thought. "But this special year I am a huge fighter because I have been fighting for six months for the biggest goals that I have, those two Olympic races.
"I am fighting for the Olympics. That is the fighter in me and and I am fighting the maximum I can to come back at the level I want to be at.
"The Olympics is something really special. It is for my country, it is the greatest event and it is the biggest thing in sport you can get."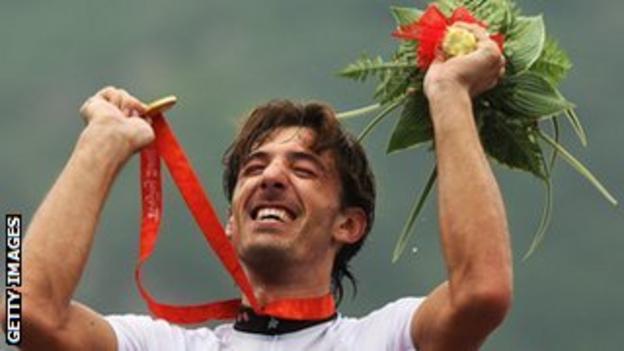 Bigger, even, than the Tour de France, and regaining his world title from Tony Martin? This year, yes.
So far, since returning to the saddle in the Tour of Bavaria at the end of May, Cancellara has had mixed success.
The RadioShack-Nissan star secured a seventh national crown in the Swiss time-trial championship last week but, before then, he only managed second place in the prologue to the Tour of Switzerland.
Usually, at this stage of the season, he would be gearing up for the three time trials in this year's Tour de France, and also hoping to add to the 21 days he has spent in the yellow jersey in the past, more than any other rider in this year's race.
This time around, however, the Tour is only part of his fine-tuning for the Olympics. A vital part too, given his shortage of competitive miles in recent weeks.
Cancellara is still among the favourites for Saturday's prologue, of course. That is understandable, given he already has six Tour time trial triumphs to his name, including four prologues.
Neatly, the first of those came in Liege in 2004, the Belgian city where the latest Tour will begin over a short 6.4km course.
But it is unlikely he will still be in the mix to try to win the 53.5km race against the clock on the penultimate stage from Bonneval to Chartres. Too many mountains lie in between.
Like several other riders, Cancellara is almost certain to be saving his legs for London, with the Olympic road race taking place on 28 July - only six days after the Tour's climax in Paris. The time trial is on 1 August.
He still plans to be riding down the Champs-Elysees again soon, though. Could it even be as a Tour winner?
There is a theory that Cancellara who thanks to his successes in Classics and single-day races as well as time trials is seen as arguably the best all-round cyclist in the world, could become a contender in the General Classification if he were to shed a few pounds to help him in the hills.
It is an approach that has worked for one of his rivals for Olympic time-trial gold, Britain's Bradley Wiggins.
In the absence of Cancellara's RadioShack-Nissan team-mate Andy Schleck, who misses this year's Tour with a fractured pelvis, Wiggins is one of - if not the - favourites to triumph at the Tour.
Cancellara, whose childhood hero was five-time winner Miguel Indurain, another time-trial specialist turned Tour winner, has certainly thought about doing the same, but that particular ambition is on hold while the Olympics remain a priority.
"Winning the Tour is a dream," said Cancellara. "But it is not a goal. That is the difference."
Follow me on Twitter throughout this year's Tour de France @chrisbevan_bbc