Ryan Lochte beats Michael Phelps to win 400m IM at US trials
Last updated on .From the section Olympics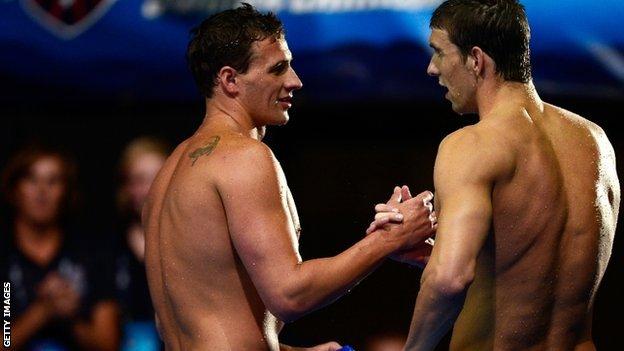 Ryan Lochte got the better of rival Michael Phelps on the first day of the US Olympic trials in Omaha.
The pair competed in the 400m individual medley, with Lochte winning in 4:07:06 and Phelps second in 4:07.89.
The race was the first of six possible meetings between the two this week, but Lochte was far from satisfied.
"That time was not good at all, I know I'm capable of going way faster," said the 27-year-old.
"There were definitely a lot of places during that race where I knew I could go faster, I just didn't. But I had to do what I had to do to get on the wall, and hopefully that will change in a month."
Phelps, the 2004 and 2008 Olympic champion in the event, led during the butterfly leg of the race, but was overhauled on the backstroke and could not recover.
The result means that Lochte and Phelps are the two American qualifiers for the 400m individual medley in London, with world silver medallist Tyler Clary - the fourth-fastest swimmer ever in the event - missing out in third.
"All three of us were side by side by side and we were neck and neck," said Phelps.
"You could hear the excitement of the crowd and that's something that definitely played a pretty big role in giving me a little extra energy the last 150. I was very pleased with that."
Phelps did make history by becoming the first American male swimmer to qualify for a fourth Olympics, and his coach, Bob Bowman, said: "We knew that (losing) was a distinct possibility in this event.
"I don't think we had any illusions. He knows that he's in the range. He knows he can get better."
The 100m and 200m freestyle, 200m backstroke, 200m medley and 100m butterfly could all see Lochte and Phelps, who hold 11 world records between them, in direct competition.
The pair are next in competition in the 200m freestyle heats and semi-finals on Tuesday, when 17-year-old Missy Franklin and 40-year-old Janet Evans also join the action.
Elsewhere on Monday, Peter Vanderkaay and Conor Dwyer sealed their places on the team in the 400m freestyle, while Elizabeth Beisel and Caitlin Leverenz were first and second in the women's 400m medley.