London 2012: Gymnast Frankie Jones is still improving
Last updated on .From the section Olympics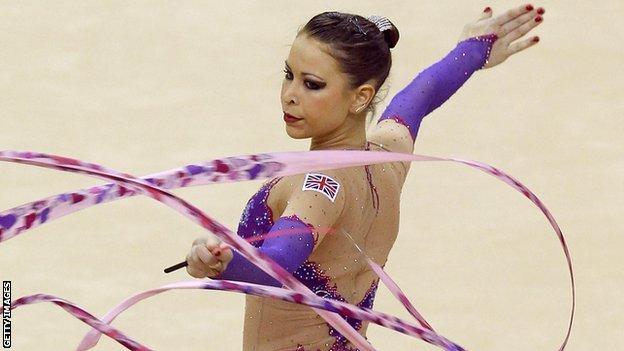 Wellingborough's rhythmic gymnast Frankie Jones says she is still improving with a month to go to the start of the Olympic Games.
The 21-year-old has won the Welsh Championships and the Irina Deleanu Orange Trophy in recent weeks.
Jones told BBC Northampton: "It's been a good couple of weeks. My routines seem to be getting more consistent.
"It wasn't the top gymnasts in Romania, but they were good, and I was quite proud of myself to win it."
The five-time British champion and Commonwealth Games silver medalist scored 103,300 in Bucharest to take the overall title.
And now, Jones, who was the top British gymnast at the 2011 World Championships in Montpellier, is now ready for a final competitive tune-up ahead of London 2012.
"I'm just trying to concentrate on the small goals like the British Championships [next weekend]," said Jones, who had a statue in her likeness unveiled at Heathrow in January.
"But after that, there's no more competitions. Hopefully I'll be able to concentrate on my training, keep everything as consistent as possible and be in the best form I can be for the Games.
"My friends and family are quite proud of me, I think. Like me, they're shocked that it's coming but proud that I'm going to be a part of it."
Frankie Jones is one of BBC Northampton's three featured athletes as part of 'Olympic Dreams' in the build-up to London 2012.