European Championships: Pressure on GB hopefuls - Cram

By Steve Cram
BBC athletics commentator
Last updated on .From the section Olympics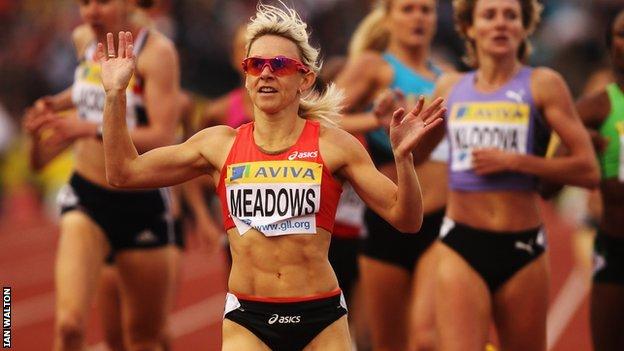 Following the GB Olympic athletics trials, there are still quite a few places up for grabs for the London 2012 squad going into this week's European Championships in Finland.
The Euro team is much bigger than I think UK Athletics head coach Charles van Commenee envisaged. He said previously that he thought they would have a pretty small squad there but, owing to the poor conditions at the trials, quite a few people did not convert their Olympic 'A' standard into a top-two finish to secure Olympic selection.
There were also quite a few athletes with injuries and niggles. Therefore, the Euros will be an important final opportunity for the 80-odd athletes heading to Helsinki to tie down their places in the team.
But the weather in Finland has not been great and the level of competition will be higher than the trials. The athletes will have to try to respond to that.
For people who were not at the trials, like 800m runner Jenny Meadows, it is a fantastic opportunity to stake their claims, especially considering how the women's 800m played out. Like many other athletes, she will be saying 'thank God nobody grabbed the opportunity and my chance is still alive'. The women's 800m is still very open and the final three could be selected from four or five athletes.
For race favourite Marilyn Okoro, who only ended up finishing fifth, perhaps the occasion took over because previously she had been in shape and running well. Really, she just needed to jog around and make sure she finished in the top two. I'm not sure why she took the risk of running the first lap that hard. Now she has got to cross her fingers and hope it does not come back to haunt her.
The women's 100m selection battle will also be one to watch. Abi Oyepitan, the only woman who held the 100m 'A' standard in the field, pulled out of the final as a precaution to prevent damage to her already tight hamstring.
She looked sharp during the heats but did not want to take any risks. And she did not have to because she is not in an event where she has got lots of people trying to steal her place in the team.
Jeanette Kwakye, who missed the trials through injury, will be competing in Helsinki but as she has been struggling with fitness, she only has a chance if she runs well.
I would love to see Kwakye and Oyepitan make the team - they have been our best two sprinters for a long time but have had so many injury problems over the years. Kwakye needs to pull a performance out of the bag and hopefully her body will allow her to do that.
As the Euros are the athletes' last chance, they have to put it all on the line. Just as Jodie Williams did, she knew she was not 100% before the trials and ended up pulling up in the 100m mid-race. Were it any other meeting she probably would not have raced.
The risk did not pay off for her, unfortunately. And that is what the Olympics does - it makes people take a risk with their bodies because you might never get the chance again.
The Euros will not be easy. If you are chasing an 'A' standard in your event, competing in rounds is not always the best way of doing that. Do you go for the performance in an early round or do you wait until you have progressed through to the final?
It's difficult to run a big personal best if you have to run three rounds, for example, so it is not ideal. It is not necessarily about winning a gold medal, it is about a particular time which is different to how you would usually go about a major championships.