Adam Gemili to run, not fight al-Qaeda - Charles van Commenee
Last updated on .From the section Olympics25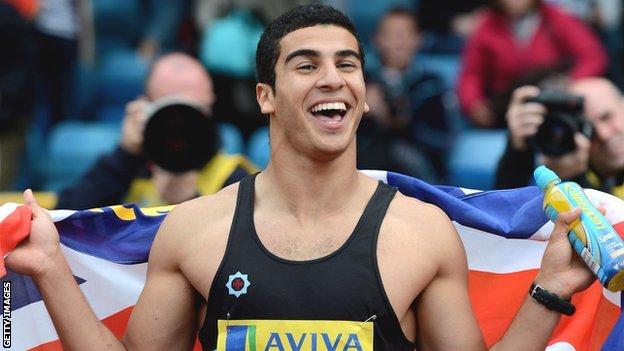 UK Athletics head coach Charles van Commenee has played down concerns about teenage sprinter Adam Gemili competing at this summer's Olympic Games.
Gemili, 18, as well as in the World Junior Championships.
However, his coach Michael Afilaka had described him as an "emotional wreck".
But Van Commenee said: "I am not sending my 12-year-old niece to fight al-Qaeda. We are going to the Games. It's fun."
He added: "I didn't see an emotional wreck, just a happy 18-year-old young man who's very level-headed.
"A lot of people in athletics make it sound as if they are living a hard life, as if they have to go to the coal mines in Azerbaijan every morning or maybe have to work for the Daily Mail every day. That's what I call tough. We are doing sport, something fun. Sometimes athletes and coaches forget that.
"When we send an 18-year-old to the Games obviously we look after him, there are things in place so that UKA looks after the welfare of athletes. It's a duty, we do that always.
"We have a great support team and that's every day. It's 365 days a year. If someone melts down on Christmas I'm sure we have something in place. It's what we do."
Gemili is a former Chelsea FC trainee, who was a right-back on loan from Dagenham & Redbridge at Thurrock in the Ryman Premier Division at the start of this year before switching full-time to athletics.
Last month he ran the 100m in 10.08 seconds - the second fastest time in Europe this year, and has announced his intention to compete in both the World Junior Championships (from 10-15 July in Barcelona) and the London Games, where the athletics programme gets under way on 3 August.
Gemili told BBC Radio Kent: "My plan is to go to the Olympics and compete with the world's top sprinters and not get beaten too badly."
Van Commenee believes the experience will stand the young athlete in good stead.
"He is a happy young man who is looking forward to being at the greatest sporting event in the world," he added. "The World Juniors has always been his main focus but one doesn't exclude the other.
"The World Juniors was always important to him and you also have to learn how to win, or to medal. I would say any competition helps to build a better athlete. The (Olympic) trials is a good example. It was very useful for him to race there with seven big men next to him.
"Obviously he is talented but it takes more than only talent to become a star. The word talent is usually used in a physical sense. The difference will be the ability to overcome difficulties, making the right decisions, how injury-prone is he, will he make the sacrifices? It remains to be seen, but physically he has really good tools."