Brendan Hansen wins 100m breaststroke at US swimming trials
Last updated on .From the section Olympics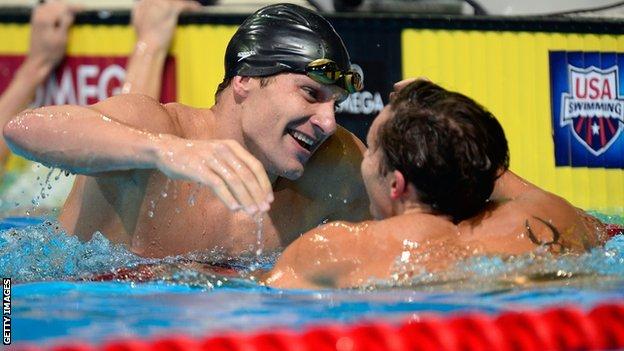 Brendan Hansen will make an Olympic comeback at London 2012 after winning the 100m breaststroke on day two of the US Olympic trials in Omaha.
Hansen, 30, retired after Beijing 2008 after failing to win an individual gold in two attempts at the Olympics.
But after winning in 59.68 seconds, he said: "I'm really proud of myself for sticking to it and working hard.
"I think I will be really proud of myself when I can tell people I'm a three-time Olympian."
One night after Ryan Lochte beat Michael Phelps in the 400m individual medley, he defeated his rival again in the semi-finals of the 200m freestyle. The final is on Wednesday.
Missy Franklin, 17, was the top qualifier in the semi-finals of the 100m backstroke, recording a time of 59.06 that was less than a second behind Gemma Spofforth's world record.
Natalie Coughlin, who has won 11 medals at the past two Olympics, had a difficult night in that event though. Coughlin barely qualified for the final with the seventh-fastest time (1:00.63).
Matt Grevers stamped himself as a favourite in the 100m backstroke with the top semi-final time of 53.10 and Olympic gold medallist Rebecca Soni led the semi-finals of the 100 breaststroke (1:05.88).