European Championships: Kwakye fails to make 100m final
Last updated on .From the section Olympics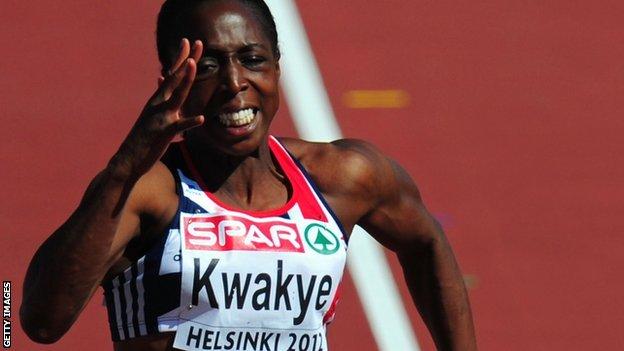 Jeanette Kwakye's London 2012 dream may be over as she failed to qualify from her 100m heat at the European Championships in Helsinki.
The former Olympic finalist, 29, finished seventh of eight runners in her heat, in a time of 11.98 seconds.
"I'm devastated. I don't know what's going to happen," she said.
Elsewhere, Harry Aikines-Aryeetey sealed his place in the 100m final, but Mark Lewis-Francis could only finish sixth in his semi-final run.
But while Aikines-Aryeetey, who ran 10.27 seconds in his heat, finished second in his semi-final with a time of 10.30 secs, Lewis-Francis could only muster 10.36 secs.
Norway's Jaysuma Saidy Ndure clocked the best time with 10.13 secs, while Christophe Lemaitre won his semi-final in 10.14 secs.
Britain will have two representatives in the high jump final after in-form Robbie Grabarz and Samson Oni bothrecorded jumps of 2.23m, but Tom Parsons was eliminated after clearing 2.10m.
But there was little joy for Kwakye, who finished sixth in the 100m final at the Beijing Olympics in 2008 but has been blighted by injuries to her Achilles tendon, ankle and knee.
The Londoner missed last week's Olympics trials with a flare-up of an Achilles injury and is pessimistic about her chances of making the Games.
"I can't start on the line in London if I'm going to be in that kind of shape and form. I wouldn't do myself justice and psychologically it doesn't help," she said.
Kwakye, who also competes in the 4x100m relay in Helsinki, could still feature at the Games because she met the 'A' qualifying standard of 11.29 seconds twice last year.
However, UK Athletics selectors also demand proof of current form.
There was more bad news for British athletes on day one in Helsinki, with Luke Lennon-Ford missing out on a place in the men's 400m semi-finals.
The European Under-23 bronze medallist won his heat but was disqualified for stepping out of his lane.
Richard Buck was also disqualified but later reinstated after British team officials lodged an appeal when video evidence of any indiscretion proved inconclusive.
Lennon-Ford blamed renovations to the venue for his disqualification.
"One of the Finnish radio reporters told me they've changed the curve and they have blatantly made it too tight," said the 23-year-old.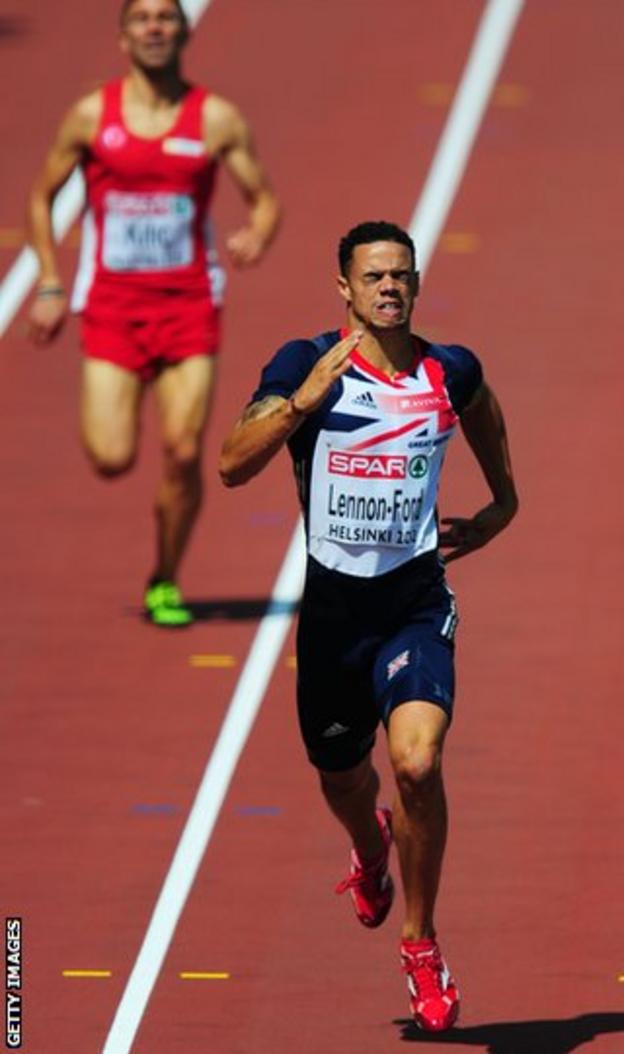 Buck still needs to record two 'A' standards of 45.30 seconds in the semi-final and final to have a realistic chance of being selected for the Olympics, with Nigel Levine in a strong position to claim the final place available alongside Martyn Rooney and Conrad Williams.
There was also disappointment for Abigail Irozuru - who failed to qualify for the long jump final - and Isobel Pooley, who needed to clear 1.95m in the high jump to secure an automatic Olympic place but managed only 1.78m.
Irozuru has leapt 6.80m this season and needed another leap over the Olympic 'A' standard of 6.75m to be eligible for selection for the Games, but she managed just 6.19m on her final effort.
Carl Myerscough - who was banned from Olympic competition after failing a drugs test in 1999 but is now eligible after the British Olympic Association lifted its lifetime ban on athletes convicted of doping - also failed to qualify from his group in the shot-put.
The men's 400m hurdles did bring some success for Britain, with Nathan Woodward and Rhys Williams both qualifying for the semi-finals, but Richard Yates failed to qualify from his heat, finishing fifth.
In the men's 800m heats, Gareth Warburton and Mukhtar Mohammed qualified for the semi-finals in first and second respectively.
Meghan Beesley finished fifth in her 400m hurdles heat but she still qualified for the semi-finals as a fastest loser with a time of 57.18.
But there was no such reprieve for Laura Whittingham who finished ninth in the javelin with a throw of 52.82m, although Britain's number one Goldie Sayers qualified top of her group with 60.90m.
The women's 400m runners had mixed fortunes with Kelly Massey failing to qualify from her heat after a sixth-place finish and Nicola Sanders withdrawing with illness, but Lee McConnell will keep the British flag flying after running 52.58 seconds for second place in her heat.
Both Rob Mullett and James Wilkinson failed to qualify from their 3,000m steeplechase semi-final, while Luke Gunn failed to finish at all after taking a painful fall on the second lap of his race.
Ashlee Nelson equalled her season's best in her 100m semi-final but still failed to reach the final, finishing sixth.